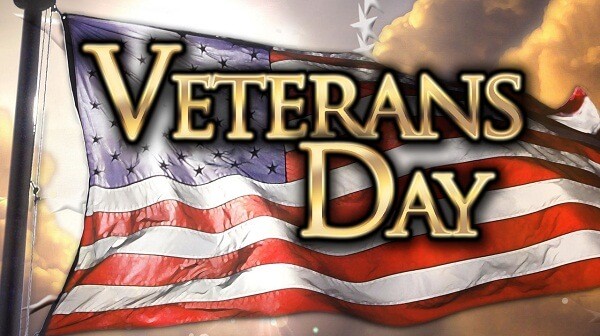 If there is one thing that rings true is that our country would not be a reflection of all of the good things in life if it wasn't for our Veterans.
Local Veterans are lucky that so many businesses want to show their gratitude with a wide range of free offers. Check out these awesome deals from small businesses and large chains looking to celebrate all our Veteran's do for us and have done for us.
The Crumb: "Bake America Great" by offering buy one get one free for anyone declaring themselves a veteran.
IHOP: Free red, white and blue pancakes from 7 a.m. to 7 p.m.
Krispy Kreme: Free doughnut and small coffee, November 11th 2016. Available only at participating Krispy Kreme stores. Offer available to all active-duty, retirees, & veterans. Be sure to call ahead to verify your local Krispy Kreme is participating.
BJ's Resturant and Brewhouse: Free entree, up to $12.95 value. Offer valid to all active duty military and veterans, with proof of service. Guests over the age of 21 are also invited to raise a glass to veterans for just $5 each. They can choose from BJ's award-winning 11 signature beers and cider on tap.  November 11th only.
On Tap Barbershop: First beer is on the house and all beers all day are $2 each along with $5 off all haircuts on November 11th. On Tap Barbershop has locations in Ontario and Upland
Little Caesars® Pizza: November 11th 2016. Free pizza or $5 HOT-N-READY Lunch Combo to all US Armed Forces veterans and active military members between 11:00 AM and 2:00 PM. With proof of military service, at participating stores nationwide. Call ahead to verify participation.
Logan's Roadhouse: Free entrée from select menu for veterans and active duty military personnel. Call your local Logan's Roadhouse for details and to verify participation November 11th 2016.
Applebee's: Free meal from a special menu and get a $5 coupon that can be redeemed Nov. 12-27.
California Pizza Kitchen: Choose a pizza, full size salad, or pasta from the special Veterans Day Menu. Dine-in only. Please come in uniform or bring your military I.D. or other proof of service. November 11th only.
Fazoli's: Veterans will receive a free "Build Your Own Pasta Bowl" on November 11th only.
Claim Jumper: Free entrée from select menu, with official proof of service. Dine-in only November 11th only.
Famous Dave's: Free 2 Meat Combo served with choice of side and corn bread muffin – for veterans and current military members. Bring proof of service November 11th only.
Carraba's: November 7th – November 13th 2016. Free appetizer of your choice for active duty service members and veterans. Military ID or proof of service required.
Outback Steakhouse: Free Bloomin' Onion and a beverage. Outback also is offering active and former service members 15% off their meals and their families' Nov. 12 through Dec. 31.
Red Robin Gourmet Burgers and Brews: All veterans and active duty military get a free Red's Tavern Double Burger and bottomless steak fries at participating restaurants nationwide. Red Robin is also donating $10,000 to United Service Organizations.
Ruby Tuesday: Free appetizer up to $10.
Buffalo Wild Wings: Free small order of traditional or boneless wings with a side of fries.
Chili's: Free meal from a special menu.
Denny's: From 5 a.m. to noon, active, inactive and retired military personnel get a free Build Your Own Grand Slam.
UFC GYM: Active duty and veteran military and their families will receive VIP status at more than 130 locations across the United States from Nov. 11 to Nov. 13. VIP members receive total gym access. Check out our friends over at UFC Gym in Ontario.
Great Clips: Veterans who go to Great Clips for a haircut on Nov. 11 will receive a coupon for a free hair cut valid through Dec. 31.
Golden Corral: Veterans get a free beverage and buffet meal from 5-9 p.m. Nov. 14.
First 50 Military Families Eat for Free!!!
YOU can say thanks by donating more free meals!!!
For more information, please call (909) 793-1078 or 7-1-1 for TTY users
Amazon: Offering 20% off of select apparel on Veterans Day. Promotion code: "20veterans"
Walgreens: Offering a 20% discount to all Veterans, Active duty military, and their immediate families, on Veterans Day 2016. Must present a Walgreens Rewards card and valid Military ID or proof of service to receive discount on eligible items.
Baskin-Robbins: For every ice cream scoop sold in the U.S., the company will donate 11 cents to United Service Organizations.
Chipotle: From 3 p.m. to close, all U.S. military, military spouses and veterans get a buy one get one free burrito, bowl, salad or tacos.