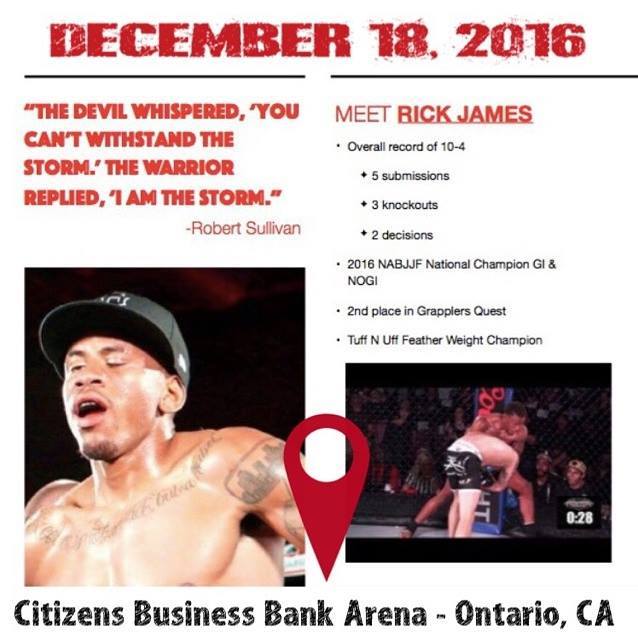 This weekend the Inland Empire is represented in big ways at the King of the Cage event at Citizens Business Bank Arena. The Main event has a fighter from Hesperia taking on a fighter from Michigan. There is also a fighter from Victorville that is said tho be the up and coming star in the sport of UFC fighting. Well a trainer from the UFC Gym in Ontario, Ca Rick James is scheduled to fight in this weekends fight.
King of the Cage, the leader in casino mixed martial arts entertainment, returns to Citizens Business Bank Arena in Ontario, California on Sunday, December 18, 2016 with another world-class mega-event headlined by two World Title fights between Juan Archuleta vs. Derrick Mandell and Ryan Fillingame vs. Arian Sharifi and also featuring some of the sport's most ferocious competitors……"WARRANTED AGGRESSION".
Fight card includes:
Main Event – Flyweight World Title (135 lbs.)
Current KOTC Champion Juan "The Spaniard" Archuleta (11-1), Hesperia, California (Joe Stevenson's Cobra Kai) vs. Derrick "Give 'Em Hell" Mandell (7-2), Dearborn Heights, Michigan (Michigan Top Team). Archuletta has won his last 8 fights and is top ranked. Mandell has won his last 3 fights.
Main Event – Welterweight World Title (160 lbs.)
Current KOTC Champion "Prince" Ryan Fillingame (4-1) from Victorville, California (Team Diamond MMA) vs. Arian "Nite-Nite" Sharifi (4-0), Lake Forest, California (Sub Fighter, Classic Fight Team, 10th Planet). Fillingame is one of the top up and coming stars in MMA. Sharifi is undefeated and has won all his bouts impressively.
Featured Event – Welterweight 170 lbs.
Ricky "The IE Bad Boy" Legere (19-7), Corona, California (UFC Gym Corona) vs. Anthony "Apocalypto" Hernandez (5-1), San Dimas, California (Fight Academy Pasadena).
Featured Event – Lightweight 155 lbs.
Chris "Taco" Padilla (7-1), Gardena, California (Systems Training Center) vs.Christian "The Beast" Aguilera (6-2), Brea, California (Total MMA).
Other fighters appearing on the card will include Other fighters appearing on the card will include John Mercurio, Daniel Hernandez, Jalin Turner, AlexPerez, Ralph Acosta, Cristan Garcia, Rick James, Erik Van Der Lee, Jordan Harris, Andrew Lazo, Bobby Sanchez, Chai Sirisute, Sergio Perez, Rogelio Reyes, Patrick Kelly, Jonathan Salazar, Anthony Jimenez, Carter Barnett, Ritchie Rodarte, Richard Palomino, Brian McCammon and more.
Sunday, September 18, 2016 @ 6:00 PM
Doors open at 3:00 pm. and fights start at 4:00 pm. All Ages. Event card subject to change.