California Focus presents the First Annual Growing Arts at the Foothills.
You're invited to join California Focus at the beautiful and historic Graber Olive House for an evening of arts, culture, food and entertainment. Guests are welcome to bring the entire family to view unique art works, listen to a group of eclectic musicians, poets, and story tellers, and enter into our raffle featuring prizes such as gift certificates to local eateries, and a grand prize from the Claremont Doubletree by Hilton.
California Focus Magazine is a non-profit Arts, Culture, and Entertainment magazine covering the greater Southern California are. A portion of the proceeds raised at this event will go directly towards bringing accessibility to the arts in our local communities.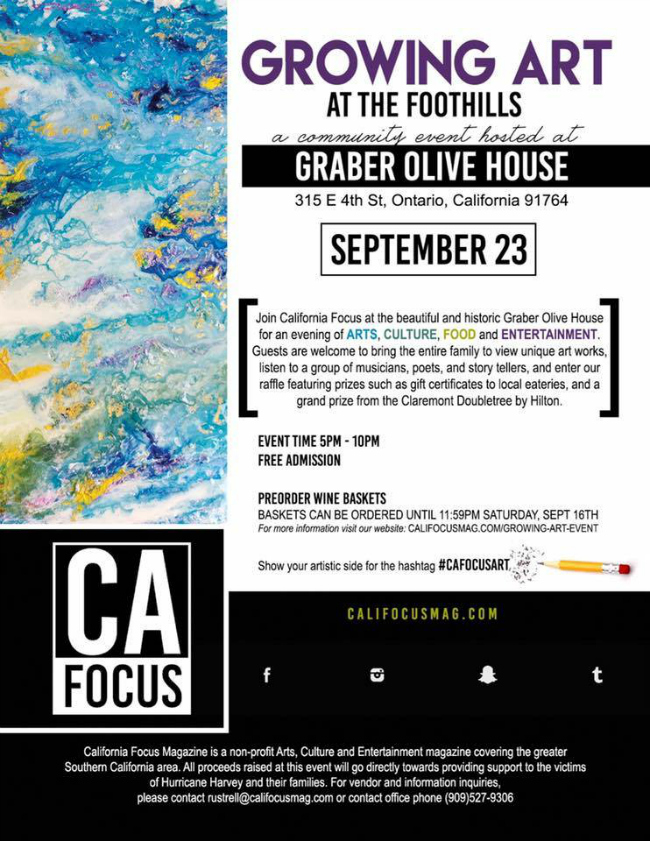 Confirmed Vendor UPDATE:
Artists:
Katie Blaine
Heather Meier
Amber Calderilla
David Guererro
Elisa Arancibia
Rene Rodriguez
George Pullido
Ashley Misner
Rebecca Ustrell
Erns Valdez
Liz Pound
Adam Schmidt
Marguerite Chapman
Gloria Duran
Monica Adrian
Jennifer Concepcion
Julie Love
Yeye Li
Timothy Martinez
Kasim Patton
Samara Schubel
Alayna Gilbert
Dean Rullan
Jenna Sandstorm
Vendors:
KoolKat Records
Performers:
Andrew MoonChild
Brian Box
Bree Higa
Psycho Punx
Food Vendors:
Pine Haven
Sweet N'Snowie
The Nut Stash
Perfect Squeeze
La Michoacana
Candy Apple / Popcorn
Geneveva (Mini Flautas)