Thanksgiving has come and gone and that ushers in the most wonderful time of the year…… Christmas. Everyone's favorite pastime during this holiday season are the holiday light displays. Today they are so much more than the National Lampoon movie style lights, they are computer generated, set to music and you can listen to on your car stereo. Below is a list of the places to go and see right here in the IE.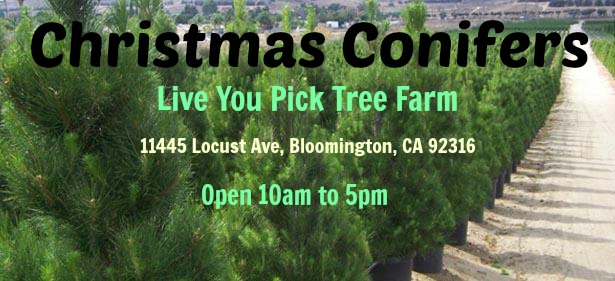 Rancho Cucamonga:
Victoria Gardens – See a beautiful Christmas Tree, Tons of White Lights and a Santa Experience designed by Disney.
Langston Street Lights – Just west of Archibald on Church Street you will see one of the most popular lights displays in the city. This house is so popular it has its own Facebook page with 2,311 Likes. Come out and see thousands of lights synchronized to music. Langston Street Christmas Lights
Bass Pro Shops – Stop by Bass Pro Shops and enjoy their winter wonderland, color a color page, play with toy trains and say hi to Santa.
Rialto:
Tree Lighting – Tree Lighting Ceremony to be held Friday, December 8th, from 6:00 pm – 8:00 pm at the Rialto City Hall, 150 S. Palm Ave. The city will also be collecting canned food and toys for those in need.
Holiday Parade & Vendor Fair – The Holiday Parade begins at 10:00 am, Saturday, December 3rd. Starting at Foothill Ave. and Riverside Ave. traveling south on Riverside Ave towards Rialto City Park. Enjoy the Musical Performance, Vendor Fair at Rialto City Hall following the parade.
Fontana: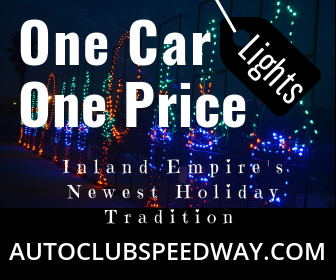 Magic of Lights Fontana – A new holiday drive-thru experience is coming to the Inland Empire. Magic of Lights is a dazzling 1.5-mile drive-thru holiday lights experience featuring LED displays and digital animations. Enjoy the sparkling displays depicting the favorite characters of the season from the comfort of your own vehicle as you wind slowly through a festive route in the O'Reilly Auto Parts Fan Zone of Auto Club Speedway in Fontana. The 20-30 minute experience is an affordable, easy outing for families, couples and groups. For more information click here.
One carload, one price.
Highland:
Dancing Lights –  On Crest View lane in East Highlands Ranch there is a interactive light display that is the talk of the town. What makes this one extra special is Santa makes a visit and hands out candy canes to the kiddos. All their info can be found on their Facebook page Dancing Lights In Highland
Davis Lane – at 29062 Davis lane in Highland there is a beautiful light display where there are so many lights that they cover the entire property. This display is a sight to be seen and is synchronized to music.
Colton:
Christmas Tree Lighting – Thursday, November 30 at 5:30 PM – 8 PM 650 N La Cadena Dr, Colton, CA 92324
Chino:
Operation Christmas Lights – This light display's goal is to raise money in order to provide Christmas gifts to the children of a fallen soldiers. This display is located at 5386 Buttonwood Court, Chino Hills, CA 91709 find out more here.
Chino Christmas Lights – Chino CA. just South of the 60 fwy on Walnut , between Mountain , and Euclid and on the Corner of Philadelphia and Monte Vista.
Grand Terrace:
Light Up Grand Terrace – This year's Light Up Grand Terrace Holiday Tree Lighting Ceremony is back and bigger than ever!
2017 Light Up Grand Holiday Tree Lighting Ceremony
Thursday, November 30, 2017
4 p.m. – 9 p.m.
Tree Lighting 6:30 p.m.
Azure Hills Church (Parking Lot)
22633 Barton Road
Grand Terrace, CA
Redlands:
Downtown Redlands – Musical entertainment at Ed Hales Park during the holiday season beginning at noon on Saturday Nov. 25, Dec. 2, and Dec. 9. Come downtown to get your holiday shopping done in with festive music and lights.
Riverside:
Mission In Festival of Lights – The Mission Inn hotel here in Riverside puts up lights all over it. It really is spectacular. They also have an outdoor ice skating rink and they do carriage rides.
If you know of an awesome display let us know.