There is so much more than just holiday lights to see in the Inland Empire. Here we have so many talented people that are busy all year creating Holiday Decorations and that perfect gift for that someone special. Check out this list of fun places to visit for some holiday shopping fun.
Not into shopping not to worry there is plenty of fun events with Hot Coco and even SNOW!!!!!
Chino:
Mustangs Before Christmas II – Team Strictly Stangz Presents
Mustangs Before Christmas II Hosted By Chino Hills Ford !
Saturday Dec 2, 2017 10am – 2pm
Bringing the Mustang and FORD community together to collect toys for the kids that are less fortunate during the time of holidays ! We have teamed up with Calfiornia Highway Patrol again to help out our community. For more information click here.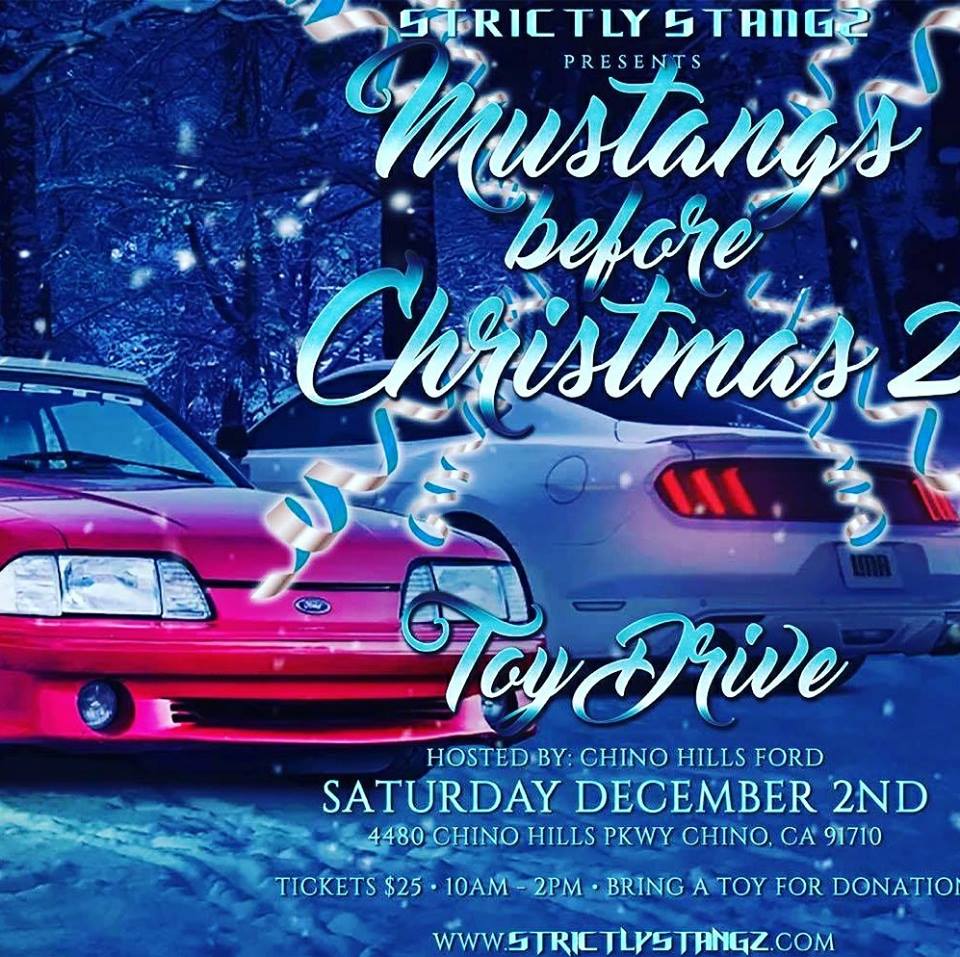 Claremont:
Holiday Soul Fest & Artisan Faire – HOLIDAY SOUL FEST & ARTISAN FAIRE – TWO DAYS!
DATE: Saturday, December 2nd and Sunday, December 3rd, 2017
TIME: 1:00 PM – 6:00 PM on both days.
Come to one or both days to experience a variety of Holistic and Alternative Health and Wellness services, and original and handcrafted work created by local Artisans! This is a perfect event to purchase beautiful one-of-a-kind gifts for family and friends, pick up gift certificates for a variety of wellness services, and receive a bit of self care!
[20 VENDOR BOOTHS AVAILABLE! They will sell out quickly!
You may choose one or both days. Please email phyllis@feelinggroovywellness.com and a registration form will be forwarded to you.]
Join local Artisans, Holistic Practitioners / Therapists, Intuitive Readers, within a community where everyone is supported on the journey of creating extraordinary health, wellness and happiness!
Experience mini-sessions offering alternative and holistic healing modalities including massage/bodywork, energy management and healing techniques, intuitive and spiritual guidance, and browse Artisan booths selling handcrafted items including art pieces, sacred geometry, Dream Catchers, jewelry and pure essential oil creations!
All products and services available are all-natural and holistic in nature!
FREE event!
Colton:
Christmas in the Park – Head out to Cesar Chavez Park in Colton on Saturday December 9th from 10am to 1pm.
Perris:
Train to Santa's Workshop – Embark on a magical train ride and visit with Santa Claus himself at his North Pole workshop. Ride the train, where elves will lead your family in Christmas songs, holiday trivia games and storytelling. Santa greets the guests as they arrive at the workshop. Visit with Santa & Mrs. Claus at a play area where children can play on Thomas train tables and craft activities. Enjoy refreshments at the Pinacate Station boarding area.
Train times: 11:00, 1:00, 3:00, 5:30 & 7:00 on Saturday and Sunday and 5:30 & 7:00 on Friday.
Trains fill up fast – Advanced Purchase recommended!
Tickets from $15 (ages 2-11) to $20 (ages 12+). Call 951-943-3020 or visithttp://go.oerm.org/santa-workshop-2017/ for Tickets or more information!
Pomona:
2017 Citrus Park Holiday Fair – Celebrating 45 Years of Successful Festivals in the West!
Shop hundreds of artisans of American handmade and embellished art & crafts featuring photography, fine jewelry, specialty food, blown glass, wood art, metalwork and more! Three days for the price of one ticket – you won't find a better bargain!
Rancho Cucamonga:
Veterans Holiday fundraising pizza party – See Flyer Below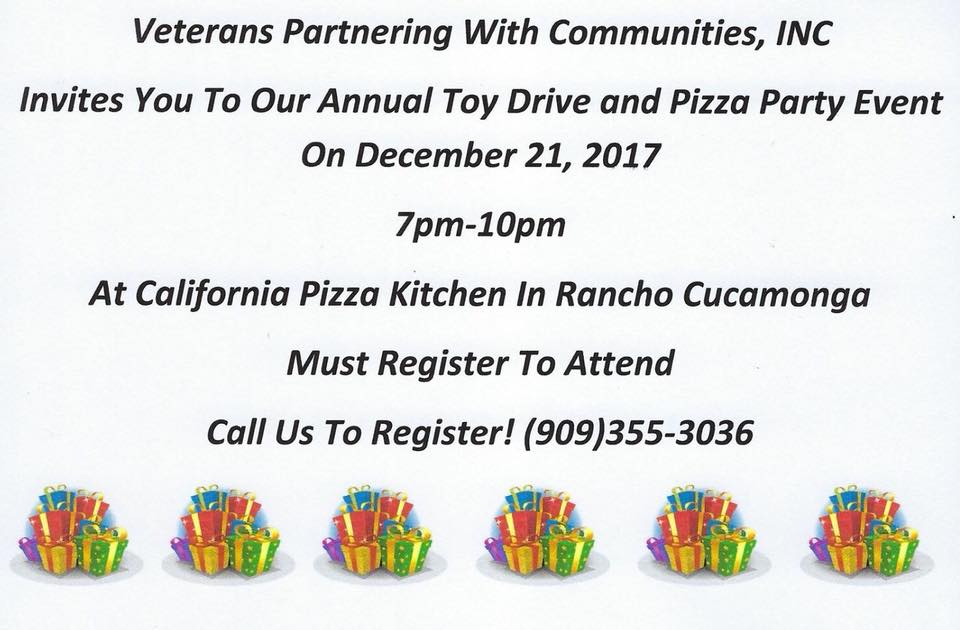 Redlands:
Downtown Redlands 2017 Holiday Kick Off Event – Join the City of Redlands in kicking off the 2017 holiday season from 4 to 7 p.m. Saturday, Nov. 18, at Ed Hales Park on the corner of Fifth and State streets in Historic Downtown Redlands.
Saturday's kickoff will create delightful and heartwarming memories for the whole family and will include arts and crafts for children, musical entertainment, games, complimentary carriage rides, a bounce house, food and merchandise booths, complimentary face painting, hot cocoa and a photo opportunity with Santa.
Musical entertainment will continue at Ed Hales Park during the holiday season beginning at noon on Saturday Nov. 25, Dec. 2, and Dec. 9. Come downtown to get your holiday shopping done in with festive music and lights.
Christmaspalooza 2017 – A night full of surprises! Fun Christmas concert followed by a big outdoor party with pony rides, inflatables, petting zoo, Santa, winter treats, and more!
Concert and Party: December 3, 6pm, childcare check in starts at 5:30pm, doors open at 5:45pm. There will be a line forming before then, so arrive early to get better seats.
Details and tools to invite others at http://pathwayonline.com/palooza
Riverside:
A Charlie Brown Christmas – Fox Riverside Theater November 21st for tickets click here.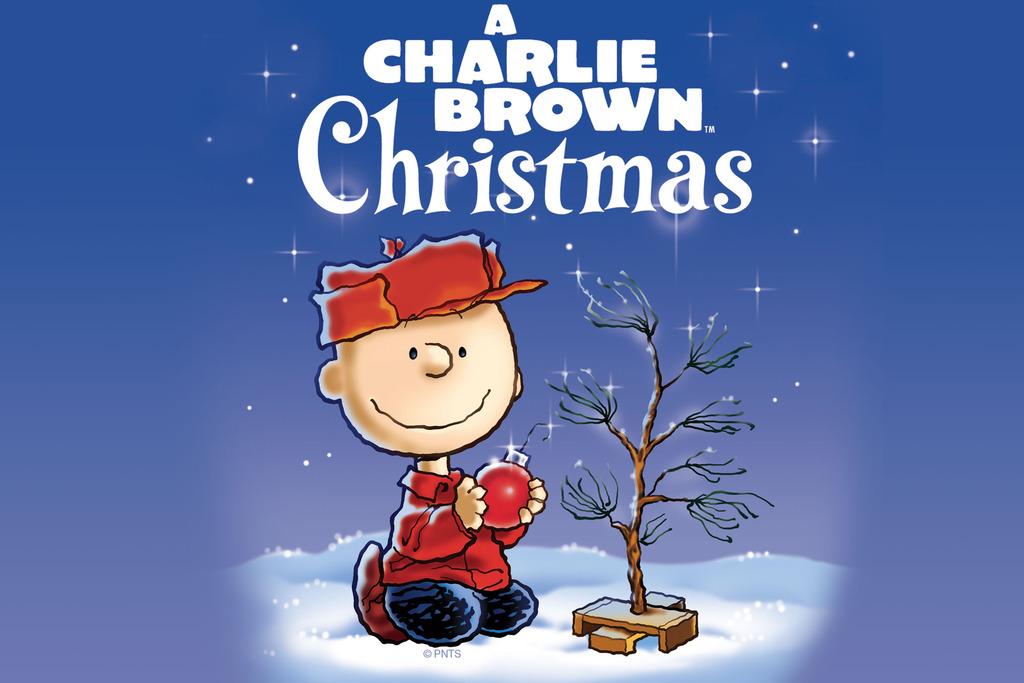 Festival of Lights – After the lights are switched on you can find awesome live music, neat treats and wonderful shopping while enjoying one of the oldest and most elaborate light displays in the Inland Empire.
Winter Wonderland – Enjoy snow sledding and meeting Saint Nick! The Winter Wonderland event, in collaboration with the Arlington Business Partnership, will feature festive activities that are sure to delight. The event features free activities, snow sledding with over 50 tons of snow, bounce houses, photos with Santa, crafts, entertainment, prizes, games, face painting, and food!
Purchase your fun zone wristband in the link below or any community center.
Additional information at RivReg.org
If you are interested in being a vendor, please contact 951.826.2000.
2017 Citrus Park Holiday Fair – Citrus Park will bring live entertainment and artisan booths to kick off the 2017 holiday season. Join us for an all new Riverside Holiday Fair experience and find the perfect, unique gifts for your shopping list.
FREE ADMISSION
KIDS ZONE
MANY VENDORS & SHOPS
Apply to become a vendor here: https://www.citrusparkweddingandevents.com/holiday-fair-vendors