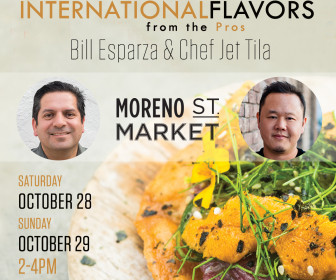 Montclair Place will host an international culinary weekend with author and food expert Bill Esparza along with celebrated chef and restaurant partner Jet Tila on Saturday, October 28 and Sunday, October 29, respectively. The event will also feature food samples from Moreno St. Market vendors Noodle World and Oli's Tacos, which recently won the center's inaugural "Search for the Next Great Pop-up" competition and was awarded with a location in the new food hall.
Esparza is one of the country's leading experts on Mexican cuisine and appears regularly on CNN, KCRW's radio show Good Food and Bravo TV's Top Chef. He is the author of the acclaimed new book, L.A. Mexicano and will share his tips on where to find the best Mexican cuisine. Small bites will be provided by Oli's Tacos.
A judge on the Food Network's Cutthroat Kitchen and Guy's Grocery Games, Chef Tila will share recipes and tips from his cookbook, 101 Asian Dishes You Need to Cook Before You Die. His famed Pan-Asian tastes reflect the L.A. neighborhoods where he grew up – Thai Town, Chinatown, Koreatown and Little Tokyo. Food samples will also be served by Noodle World.
Both L.A. Mexicano and 101 Asian Dishes You Need to Cook Before You Die are available at Barnes & Noble at Montclair Place. The books will also be sold during the event at a Barnes & Noble booth inside Moreno St. Market.
Saturday, October 28 (Bill Esparza) & Sunday, October 29 (Jet Tila) 2:00 – 4:00 p.m.
Montclair Place (Moreno St. Market) 5060 N Montclair Plaza Ln Montclair, CA 91763
Montclair Place is a 1.2 million-square-foot regional enclosed mall anchored by the exclusive Nordstrom in the market, along with JC Penney, Macy's, and Sears. Montclair Place is in the heart of the Inland Empire of southern California, easily accessed from I-10 at Central Avenue. National retailers include Sephora, Zales, H&M, Victoria's Secret, MAC and Forever 21. Montclair Place is owned and managed by CIM Group, Inc. based in Los Angeles, CA.
For more information, visit: www.montclairplace.com