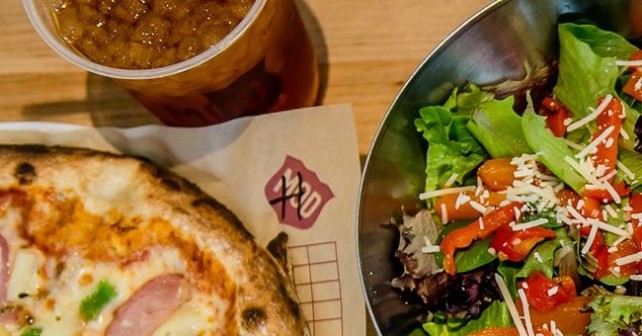 Written by Mr. Inland Empire
North Fontana was the place to be Saturday as yet another great shopping opportunity was welcomed into the Inland Empire. MOD Pizza opened its 2nd Inland Empire location Saturday and the atmosphere was electric. MOD Pizza known for the affordable create your own pizza experience had fans in a constant line showing up to experience all that MOD Pizza has to offer. Now were not going to give you everything in this one post we will tell you what we thought of the food that MOD puts out because you guys asked us to.
What we ordered:
MOD Pizza #1 – Red sauce, mozzarella cheese, pepperoni, ham, more mozzarella and parmesan cheese on top.
MOD Pizza #2 – Red sauce, mozzarella, ham, red onion, artichoke, roasted cauliflower, tomato, and more mozzarella on top.
MOD Salad – Spring mix lettuce, tomato, red onion, mushrooms, olives, blue cheese, parmesan cheese, garbanzo beans, croutons and ranch dressing.
Cinnamon Sticks – MOD pizza dough cut into strips with cinnamon and sugar then baked in the oven served with chocolate sauce.
Two Drinks and two chocolate milks
Now in full disclosure this was not our first trip to MOD Pizza we found them about a month ago at their first Inland Empire location in Redlands but we have never been unsatisfied. The pizza crust is a thin crust pizza with a crisp outside and a soft inside and the toppings lay perfectly on the pizza. The salad where I am not a fan of salad normally I ate three helpings of it was awesome and perfectly balanced, not to much dressing or olives just perfect. The Cinnamon Sticks are a great after pizza treat and the chocolate sauce is amazing (like chocolate can be anything else).
Now the drinks MOD offers your normal options of Coca Cola based soft drinks but they also have their own line of iced teas. Our table tried the Caramelized Pear ice tea and it was amazing. Not to sweet but full of rich flavor and not your everyday ice tea offering, actually typing about it is making me want one right now!!!!
MOD Pizza is a great place with great staff its like walking into a trendy In & Out the staff are all really helpful and happy. So were happy to report that no matter if its Fontana or Redlands you will not be disappointed with choosing MOD Pizza.
For locations go to https://modpizza.com/location/