Welcome to the best collection of where to go and what to do when looking for 4th of july fun in the Inland Empire. We have worked hard to reach out to the right people to get as much of the inside scoop on local events as possible. If we missed an event please share it with us on our Facebook Page
Big Bear Lake- Big Bear 4th of July Fireworks Spectacular 2015
Big Bear Lake's "Fireworks Spectacular" will explode at 7,000′ reflecting its shower of brilliance over Big Bear Lake on Saturday, July 4th. What sets Big Bear Lake apart from most other Southern California Fourth of July celebrations is its abundance of events, recreation and activities. Fireworks start at 8:45 p.m. on July 4th various locations throughout the Big Bear area personal fireworks use is PROHIBITED!!!!
http://www.bigbear.com/things-to-do/special-events/4th-of-july/
Big Bear Lake Artwalk Festival
When: 5-9 p.m. July 2, with a kickoff reception; 10 a.m.-7 p.m. July 3-4 and 10 a.m.-4 p.m. July 5.
Where: Bartlett Events Center, 630 Bartlett Road, Big Bear Lake.
Admission: Free.
Information: 909-680-8153, www.bigbearlakearts.org
Warbirds Flyover
Lake Arrowhead- Fireworks Show On The Lake
Chino- Fireworks Spectacular
The City of Chino and Chino Girls Fastpitch invite the Community to celebrate the spirit of the Independence Day holiday on Friday, July 3, 2015.  Bring your blankets, lawn chairs, picnics, and family games and enjoy an afternoon at Ruben S. Ayala Park.
The Fireworks Spectacular features:
Family Fun

Live Music

Food Vendors

Fireworks Show

And, a tribute to our local Armed Forces.
Please join us for a fun-filled afternoon at the park with family and friends.  This year's festivities will kick off at 3:00 p.m. with carnival rides, games, food, music, and fun activities for the whole family.  Help honor Chino's Service men and women at 7:00 p.m.  Enjoy a live patriotic performance by the band "The Ravelers" at 5:00 p.m. and 7:30 p.m.; a spectacular fireworks show will signal the end of the evening at 9:00 p.m.
No fireworks allowed anywhere outside a residential zone; in any public park; in the area bounded by Euclid Avenue to the west, Kimball Avenue to the south and the city limits to the north and east; and in the area south of Pine Avenue to the City limits. Click here to see the Safe & Sane Fireworks Zone.
http://www.cityofchino.org/government-services/community-services/special-events/fireworks-spectacular
Chino Hills- Independence Celebration on July 1st
Join us for this NEW Patriotic Celebration as we enjoy a musical performance and interactive game booths.  There will also be face painting, festive crafts for kids, balloon artist, strolling entertainment, and giveaways.  Vendors will be on site selling a varity of delicious treats and community booths with information and giveaways. 
Claremont- 4th of July Celebration Fireworks!
Pancake breakfast, Claremont Village Freedom 5000 5k run/walk, flag raising ceremony, game and food booths, entertainment, parade. Memorial Park, 840 N. Indian Hill Blvd. Concert, by The Ravelers, and fireworks show, 6:45 p.m. Doors open 6:30 p.m. Tickets are $8 presale, $10 at the gate. Strehle Track, Pomona College, North Mills Avenue. 909-399-5460, www.ci.claremont.ca.us
Crestline- Crestline's 2015 Jamboree Days
July 3rd and 4th  Schedule of Events: Friday July 3rd ~  Street Fair -Merchant/Vendor Activities/Events on Lake Drive Fireworks start at 9 pm over Lake Gregory Saturday July 4th – Parade Staging begins at 8 am. Parade kickoff begins at 10 am sharp. Street Fair -Merchant/Vendor Activities/Events on Lake Drive Wine & Stein Walk Through the Pines begins at 4 pm Want to get involved?  Help with the Planning?  Volunteer? Call the Crestline Chamber @ 909-338-2706 or Email to:  info@crestlinechamber.net for event info use This Link
Fontana- Fourth of July Celebration
Live entertainment begins at 5 p.m., fireworks begin
The Annual Lake Arrowhead Fireworks display is hosted by the Arrowhead Lake Association on July 4th starting at 9 p.m. 909-337-2595, www.mountaininfo.com
Norco – Horsetown Extravaganza
Join us as we celebrate our Nation's Independence the Horsetown USA way! Friday, July 4, 2014 George Ingalls Equestrian Event Center
Patriotic Equestrian Trail Ride from 10 a.m.-Noon
FREE! Ingalls Park Parking Lot 2 Dress Red, White and Blue!
Prizes awarded to the most patriotic horse and rider!
Helmets required for riders under the age of 18. Saddles required.
No stallions, no riding double. No steep trails, no river crossings.
Picnic in the Park at Pikes Peak Park from Noon-3 p.m.
FREE! Bring your lawn chair, friends and family for a bunch of fun!
Food! Family Games! Horseshoe Tournament! Music! Crafts for the Kids!
No alcohol permitted; ice chests subject to search. BBQ food and refreshments will be available for purchase.
Ontario- Fireworks Spectacular
Parade begins at 9 a.m. on Euclid Avenue, All-States picnic at 10:30 a.m. on street median on Euclid Avenue, Bring your own picnic, festivities, free, begin at 5 p.m. Fireworks are at Westwind park. Park opens at 5pm and the fireworks start at 9pm., 909-395-2020, www.ci.ontario.ca.us
Rancho Cucamonga – Summer Outdoor Nights 4th of July Concert & Teen Night
The City of Rancho Cucamonga invites you to come celebrate our Nations freedom by attending the 2015 – 4th of July Fireworks Spectacular! Join us, Saturday, July 4th, at LoanMart Field at the Rancho Cucamonga Epicenter, 8408 Rochester Avenue in Rancho Cucamonga for a fun-filled patriotic evening, presented by Mark Christopher Auto Center. Stadium gates open at 6:00 p.m., with games starting at 6:30 p.m. and fireworks at 9:00 p.m. – See more here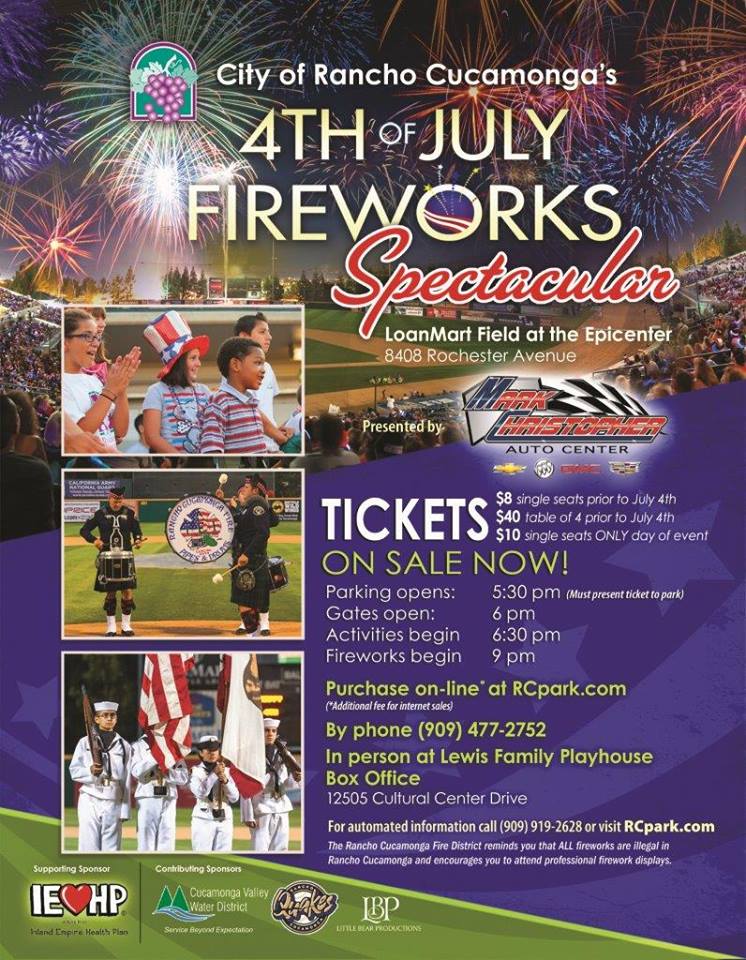 Rialto – 4th of July Celebration in the Park
The City of Rialto invites you to a Hometown 4th of July Celebration. This event takes place at Rialto City Park, 130 E. San Bernardino Rd, Rialto CA. from 5:00 pm -9:00 pm. Free admission for all.
Kids Fun Zone
Trackless Train Rides
Safe & Sane Fireworks Demonstration
Eating Contests: Hot Dog, Pizza, Watermelon
Plus a professional fireworks show!!!!!!!!!!!
For information please call 909.877.9706

Riverside – Fireworks over Mt. Rubidoux
4th of July fireworks over Mt. Rubidoux Family fun on the 4th of July. Face painting, bouncy house, rubber ducky race, Little Miss Firecracker pageant, food vendors, and fireworks from Mt Rubidoux at dark! More info here
Riverside – Concert and fireworks at La Sierra Park
Arial Fireworks Show will start at 9 p.m. La Sierra Park, 5215 La Sierra Avenue (Public access will not be permitted in La Sierra Park) Mt. Rubidoux, Mt. Rubidoux Drive at Ninth Street (Public access will not be permitted on Mt. Rubidoux after 10 a.m. Fireworks in sync with KOLA 99.9 broadcast Cost: Free
Redlands- Redlands Community Fourth of July!
Daytime activities and live entertainment begin at 7 a.m. at Sylvan Park, 601 University Street, free, parade begins at 10:30 around the park, live show with jet flyover begins at 7 p.m., fireworks start at 9 p.m. at University of Redlands stadium, 1200 E. Colton Ave., Redlands, tickets $8 in advance, $10 at the gate, 909-748-0637, www.redlands-events.com
San Bernardino- Independence Day Fireworks Extravaganza
The countdown to the 66ers 4th of July Game, presented by Nissan of San Bernardino continues. Catch the best fireworks show in the IE with the team's post-game fireworks extravaganza. Tickets Here
Upland- 4th of July Firework Spectacular
Live music, kid's zone, gates open at 5:30 p.m., fireworks begin at 9 p.m., tickets $8 in advance, $10 at the gate, Upland High School, 565 W. 11th St., Upland, 909-931-4100, Upland Website
Yucaipa- 4th of July Celebration with a Spectacular Fireworks Show
The 4th of July Hometown Committee, the Yucaipa Lion's Club, and the City of Yucaipa would like to thank everyone who has served for our country. To honor those that served for our freedom, we present a firework Spectacular Show on July 4th at Yucaipa High School. The show begins at 9:15 pm. Live entertainment will start at 4:30 pm. The carnival will be held Friday July 3rd, Saturday July 4th, and Sunday July 5th. More info at their Website
Perris FIRECRACKER 40 & SKY CONCERT
Fireworks Show Perris Auto Speedway 18700 Lake Perris Drive Saturday, July 4, 2015, 3 – 10pm Perris Auto Speedway
Lake Elsinore Fourth of July Fireworks Spectacular Over Lake Elsinore
The City of Lake Elsinore is sponsoring an Independence Day Celebration by hosting a FIREWORKS SHOW over Lake Elsinore.  The fireworks will be launched from the T-peninsula of the levee system, located at the southern end of the Lake starting at 9:00 PM.You will be able to synch music with the show by tuning in to radio station KOLA99.9.