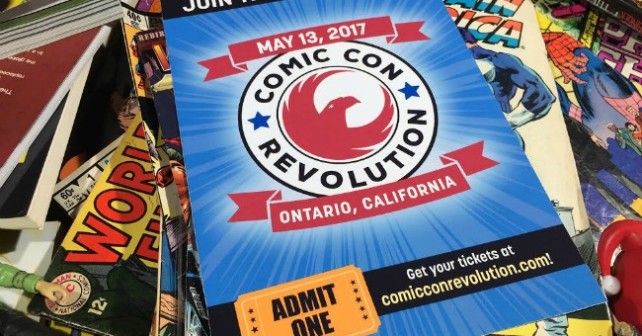 Check ComicConRevolution.com For The Full Programming Slate, Names Of Over 50 Guests Exhibitor List, And All The Info About Our Cosplay Revolution Contest!
Click here to purchase tickets!
New York, NY May 2, 2017 –  Comic Con Revolution (#CCR2017), The Inland Empire's first full scale Comic Con, will be held on Saturday, May 13, 2017 at the Ontario Convention Center in Ontario California and brings with it all of the excitement you have come to expect from a great comic con.  The opening ceremony scheduled for 9:15 am will feature a welcome from Ontario Mayor Paul Leon. With CCR only a few weeks away, Atomic Crush Events is proud to announce the show's full programming slate, over 50 guests, over 200 exhibitors, our Cosplay Revolution Contest, and so much more.  All details are available at ComicConRevolution.com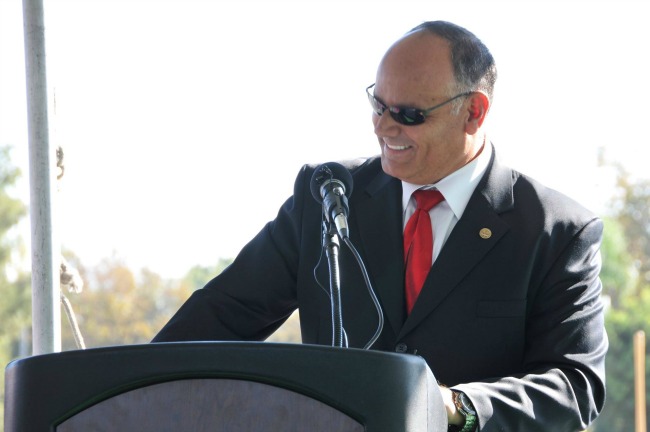 "We are excited to have Comic Con Revolution come to Ontario!  Our City continues to be a destination for major conventions and events in the Inland Empire for our residents and also for the many visitors. On behalf of the Ontario City Council, we welcome Comic Con Revolution to our beautiful City and hope that everyone enjoys all that Ontario has to offer." – Mayor Paul Leon
Programming highlights include, The Psychology of Batman, John Carpenters' The Thing 35th Anniversary Art Book, How To Create Characters and Write Super Stories, LARP 101: Surviving the Zombie Apocalypse.  Also scheduled are panels geared towards kids, web comics, cosplay, and much more.  It's all capped off by our First Annual Cosplay Revolution Contest sponsored by Dave & Busters. Hosted by Angi Viper & Agents of Cosplay, our contest features a $500 cash prize for Best in Show as well as other award categories.
"The support we have received from not only the comic community but from Ontario and The Inland Empire itself has been overwhelming," said Atomic Crush Events co-founder Drew Seldin.  "Putting together an event you can be proud of takes hard work but it also requires that those around you believe in what you are doing as much as you do.  When a community leader steps up like Mayor Leon is doing for us, we know this convention is something truly special."
Special Guests include Chris Bachalo, Sandy King Carpenter, Matt Hawkins, Dennis Hopeless, Doug Jung, Hope Larson, Ron Marz, Whilce Portacio, Paolo Rivera, and Jim Starlin.
Even more guests currently scheduled to appear include Orion Acaba, Karl Altstaetter, BRUCE the BATPUG, Anjali Bhimani, Tim Bradstreet, Marty Casaus, Feodor Chin, Matthew Clark, Mike Collins, Neo Edmund, Joshua Hale Fialkov, Derek Fridolfs, Joel Gomez, Steven Gordon, Travis Hanson, Ray-Anthony Height, Scott Koblish, Mike Kunkel, Dr. Andrea Letamendi, Livesay, Scott Lobdell, Pamela Lovas, Raychul Moore, Mike Morris, Bill Moseley, Marat Mychaels, Todd Nauck, David Naughton, Carla Perez, Karlee Perez, Josh Petersdorf, Livio Ramondelli, Norm Rapmund, Joe Rubinstein, Jon Schnepp, Patrick Scullin, Beth Sotelo, Cat Staggs, Art Thibert, Koi Turnbull, Gus Vazquez,  Vivid Vidka, Dave Wagner, Tommy Walker, Brian Ward.
For more information and to purchase tickets visit ComicConRevolution.com
www.facebook.com/ComicConRevolution/
www.instagram.com/comicconrevolution
About Comic Con Revolution
Comic Con Revolution was founded on very simple principles.  We are excited to celebrate comics and the creative arts.  At the absolute core of what we do are the creators themselves.  The people who create the comics, games, toys, film, movies and more that we all love.  Without their tireless dedication to creating the fantastic worlds we all get lost in, events like Comic Con Revolution would not be possible.  We strive to create the best possible experience for attendees, exhibitors and guests alike.  Our team of event industry veterans are dedicated to working hard to create that experience for each of you.
About Atomic Crush Events
Atomic Crush Events is an event consultation and management company that was founded on experience and innovation.  Bringing together expertise in event management, marketing, sales and business development to create a unique team that can analyze and identify the best course of action when developing a live event.  Our philosophy is simple – create the best experience possible for attendees, exhibitors and guests alike.
More information is available at www.atomiccrushevents.com
https://www.facebook.com/AtomicCrushEvents/
https://twitter.com/AtomicCrushEvnt
https://www.instagram.com/atomiccrushevents/