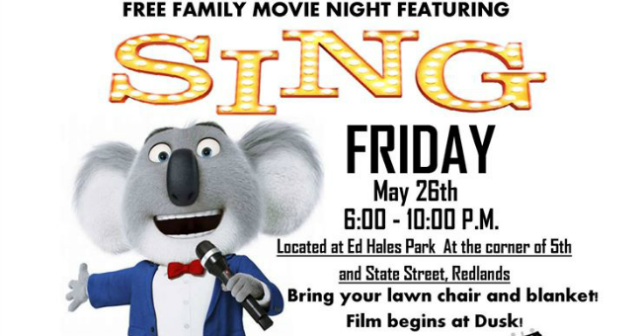 Movies in the Park Seires presents "Sing!"
Friday: May 26, 2017
Activities start at 6 pm. Screening at dusk
Ed Hales Park (State Street & 5th Street in Downtown Redlands)
The City of Redlands Quality of Life Department and Development Services present the Movies in the Park series at Ed Hales Park with a free screening of "Sing" on Friday, May 26 2017.
Movie-goers are encouraged to arrive early and bring their own lawn chairs and blankets. The movie begins at dusk with activities beginning at 6 pm, including free entertainment and activities for children.
● Free Blow-up Guitars! (while supplies last)
● Free entertainment from 6th Street School of Music
● Activities sponsored by Jersey Mike's Subs
● University of Redlands Information booth for Mental Health Awareness Month (Alliance for Community Transformation & Wellness and Each Mind Matters)
ACTW http://www.redlands.edu/study/schools-and-centers/school-of-education/center-for-educational-justice/ACTW/
Each Mind Matters: http://www.eachmindmatters.org/
The Movies in the Park program continues in June with the "Secret Life of Pets on June 23, 2017 at Ed Hales Park.
For more information about Movies in the Park, please call the Redlands Community center at (909) 798-7572 or email recreationstaff@cityofredlands.org.
This Movie in the Park event is possible through the collaboration of the City of Redlands Development Services Department, the Quality of Life Department – Recreation and Senior Services Division and our community sponsors and supporters.