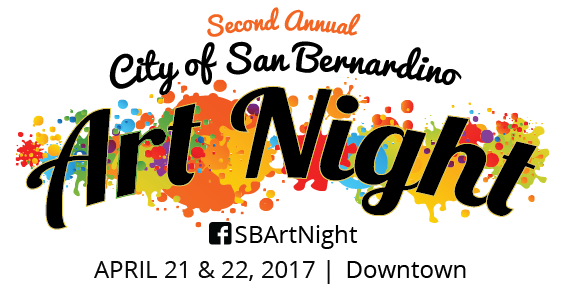 Artist from all over the Inland Empire will be converging on Court Street and the old Carousel Mall as the city of San Bernardino hold its second annual San Bernardino art night on April 21st and April 22nd. The first art night Held last year was a remarkable win for the city of San Bernardino. The city of San Bernardino has gone through its fair share of tragedies over the years and a positive spin to what is going on in San Bernardino is desperately needed.

In an article that the SB Sun published earlier this year "Street life and pedestrian activity are necessary ingredients to revitalize an area," Community Development Director Mark Persico wrote in the proposal to the City Council. "This event is expected to draw 5000 to 7000 participants to the Downtown area. Art Night will be marketed to families, students and the general public. This event will build upon the success of the initial event." The city's Fine Arts Commission has approved a budget of up to $15,335 for printing, advertising, T-shirts, portable restrooms and other expenses, according to Persico.
Another big advocate for this Art Festival is someone that does not work for the city of San Bernardino. Rusty Palmer the owner of the co-working space called the headquarters or HQ is excited to see so much going on in Downtown San Bernardino.
He is also excited to see people out because this is the very last opportunity people will be able to experience the old Carousel Mall before major Redevelopment of the property happens. Rusty Palmer can be seen on social media putting up video showing people putting together Booth food truck events happening across the street and even the accessibility of the event via the San Bernardino mass transit options as a way to highlight all of the seasons why people should return to downtown San Bernardino. For all the info go to SB Art Night Facebook Page
Another great part of Art Night is the local music. Both nights are full of great art and great music coupled with awesome LA based food trucks. So come with full wallets and empty stomachs and enjoy the night.