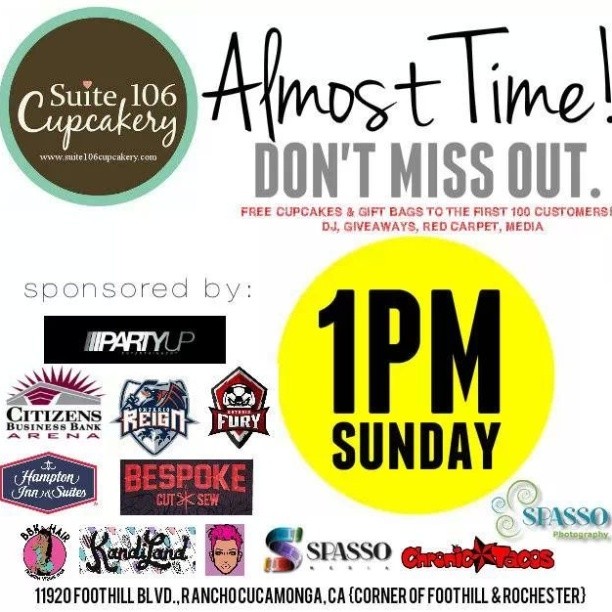 So with the explosion of the gourmet cupcake phenomenon the Inland Empire is blessed with many options to grab a sweet treat. One of the crown jewels in this realm is Suite 106 Cupcakery. Suite 106 started out online only their reputation took them to the Cup Cake Wars on the Food Network where they won both times. This launched them into a three year brick and mortar relationship at Victoria Gardens in Rancho Cucamonga. They quickly outgrew that location and were struggling with limitations of a mall lease and the inability they had to offer their customers the full Suite experience. This caused them to leave the Mall location and move to a stand alone location on the corner of Rodchester & Foothill Blvd on the historic Route 66. It took 3 months and a lot of hard work but their dream is finally a reality. In the three month wait they entered into a concession agreement with Citizens Bank Arena and kicked their mobile food truck operation into high gear.
Their new location on the corner of Foothill and Rochester in Rancho Cucamonga next to the Chronic Tacos is a awesome retial location that frees them up to operate more under their own terms. They now have room to offer over a dozen different flavors as well as other treats like whoopee pies, oversized cookies and cake pops. They also have an awesome covered area outside their shop window where cupcake patrons can sit and enjoy their treats.
Black Friday weekend they opened this new retail location and in the course of a few hours they served hundreds of people cupcakes and had one hundred and fifty people waiting outside the doors in great anticipation of their new store opening. Below is a quote from the owners in reference to the store opening:
Wow. Unbelievable. Thank you to everyone who came and broke bread with us today for our store opening. From the families that camped out with their blankets and lawn chairs since 8am this morning to all of you who waited happily in line for 4 hours. We are stunned and humbled by the overwhelming love. We had no idea how the day would turn out but you far surpassed anything we ever imagined. Thank you.
Suite 106 Cupcakery will be closed every Monday starting today. After having our previous location open 7 days a week, 12 hrs a day for the past 3 years. For more details on the store, hours of operation and daily flavors visit their Facebook page https://www.facebook.com/suite106cupcakery also watch the new season of Inland Empire Explorer for a behind the scenes look at this awesome IE hot spot.