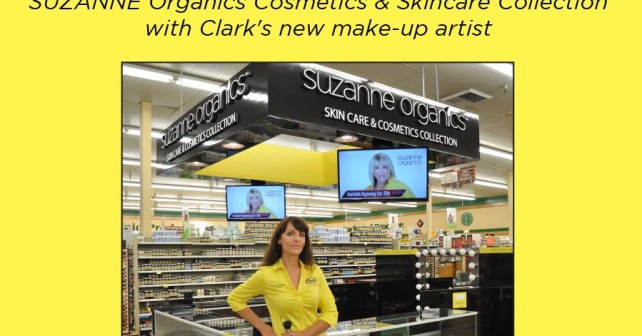 Suzanne Somers is Coming to Loma Linda!
Sunday November 3rd at 11am, Suzanne Somers will be at Clark's Nutrition in Loma Linda! The 67 year old actress, author, and entrepreneur is coming to Clark's for the launch of her SUZANNE Organics, toxic-free, gluten free, cosmetics and skincare collection. Suzanne says she chose Clark's Nutrition to be the exclusive retailer for her cutting edge alternative to chemical based products, because, "Our messages are the same. The partnership with Clark's is a perfect fit." Somers, a Clark's customer for years in their Rancho Mirage location says, "I met with ray Clark, the CEO, a true visionary, and I felt his devotion and passion for healthy living. It was a slam-dunk to work with Clarks."
This is quite a boost for Clarks, celebrating their 41st year as a family owned and operated business. Marketing Director Mike Barnett says of this new relationship with Suzanne Somers, "This is a partnership with Suzanne and Clarks. This is not some paid endorsement. It is very much a shared vision of helping people recognize, that although they may be eating organic, many are putting a ton of harmful chemicals into their system via traditional make-up and skincare products."
On Sunday, November 3rd, there will be opportunities for people to sample SUZANNE Organics products at the newly built Health & Beauty Counter in Clarks. There will also be chances to win products, as well as sign-up for make-overs.
Suzanne will be sharing briefly about her products and will join the Clark family for a ribbon cutting as they launch this historic new model of healthy skincare and cosmetics that is like superfood for your skin. So get to Clark's early on Sunday November 3rd!