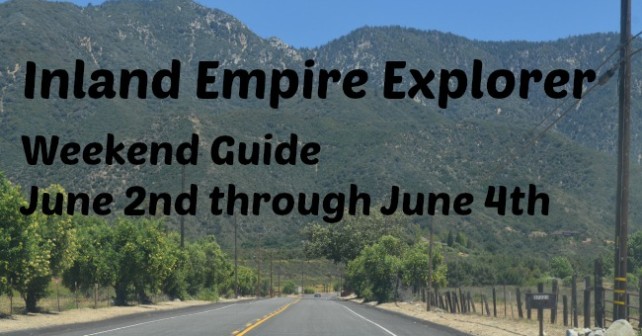 "There is so much to do and see right here in the IE". Our shows tag line rings true more and more and as our reach grows so does the Inland Empire. Every weekend there is no shortage of fun, cool and educational things to do and see.
Check out the events below that will blow away your summer:
Upland
Family Nights – A great new addition to Family Night Out heads our way starting this Thursday, June 1. We are dedicating 9th street in both directions to the kids! This idea is developing rapidly and here's the plan. The west side will have pony rides, a petting zoo, jumpers, vendors with toys, and we are hoping for a train. East of the gazebo 9th St. will be a play area for younger children with old time games & activities (free of charge). Walmart, who gave us a generous grant to purchase equipment for this area, will join us to provide information about affordable immunization and prescriptions. Our Grand Opening will be June 8 with the Fire Department joining us with a fire truck for the children's inspection (6 to 7 pm). Our food vendors will offer "kids meals" so families can easily afford to feed their children. As we progress on this idea, 9th street will be filled with summer activities for children; magic shows, storytelling, art projects and other ideas that our readers might help us with. This is an excellent chance for the community to come together and create a positive result for the kids.
Temecula
Temecula Balloon and Wine Festival – Temecula Valley Balloon and Wine Fesitival
June 2nd – 4th, 2017 Location: Lake Skinner in Temecula, CA General admission tickets include festival admittance and general admission seating to all concerts. Children 5 and under are free. ONLINE, BEFORE JANUARY 8, 2017.
Purchase tickets
•Friday: $20
•Saturday: $30
•Sunday: $20
•Weekend Combo: $50
•Youth, 6-12: $5
GENERAL ADMISSION
•Friday: $23
•Saturday: $33
•Sunday: $23
•Weekend Combo: $60
•Youth, 6-12: $5
AT THE GATE
•Friday: $30
•Saturday: $40
•Sunday: $30
•Sunday Only active military (ID required): $20
•Youth, 6-12: $5
Contact Information
General Questions: Info@tvbwf.com
Vendor Questions: vendors@tvbwf.com
Big Bear
Trout Derby – Fishin' for $50K+ Trout Derby is Saturday, June 3 and Sunday, June 4 from 6 a.m. to 2p.m. each day. Entry is $70 for adults and $30 for participants under age 16. Discounted entry of 50% off ($35 adult, $15 youth) is available to participants who either stay at least one night at a Big Bear lodging facility or rent a pontoon boat at a participating marina in Big Bear Lake. For each entry $20 is contributed to the Big Bear Lake trout fishery program to help feed and grow the fish. Entries are limited to the first 750 registered anglers. Each contestant receives a free jar of Bait and a wristband that provides discounts at participating Big Bear restaurants, shops, and specialty services.
The awards ceremony takes place Sunday, June 4 at 3 p.m. at The Cave located at 407789 Village Drive in Big Bear Village. The awards ceremony includes a general raffle with thousands of dollars' worth of fishing gear, bait and tackle from national manufacturers. Anglers have a chance to win a brand new Hobie Kayak as part of a separate raffle courtesy of Hobie Fishing and Big Bear Sporting Goods.
Eco-tourism Outdoor Adventure Festival – The Big Bear Eco-Tourism Outdoor Adventure Festival will take place on Saturday-Sunday, June 3-4 at the center of Big Bear Village (at the corner of Village Dr. and Pine Knot Ave.)
FREE TOURS: Get a taste of the fun!
Sample:…nature & discovery hikes, …Water Sports,…Birding Hikes,…Off-Road Rides
BOOTHS: Information on BBV eco-friendly outdoor adventures & green businesses
AWESOME SURPRISES AWAIT!:
Outdoor Adventures, Hiking, Biking, Horseback Riding, Lake Activities, Canoeing, Kayaking, Paddle boarding,Wildlife Sightings, Gorgeous Scenery, Amazing Wildflowers.
Montclair
Succulent Series – In the second of our three-part succulent series, UCCE Master Gardener, Sebastian, will lead a workshop where you will be able to make your own hypertufa pot to grow succulents in.
Succulent Series:
Succulents 101 (Past)
Build Your Own Hypertufa Pot
Planting Succulents in Handmade or Repurposed Pots
Have fun with plant material! In these family friendly workshops, learn about other uses for water efficient plants in and around our homes. Anyone can attend, regardless of experience. These classes often have an outdoor or hands-on component to help participants move from understanding key concepts to taking action in their yards and gardens.
Riverside
New Chillz Froyo – FREE Frozen Yogurt All Day with Toppings(up to 8oz). Yes FREE!!! Please come join us this Saturday in rolling out our Newest CHILLZ Froyo!!! We're in a Great Shopping Center and we have an Awesome Movie Theater right next store! Bring the Whole Family in! We can't wait to see you!!!
Pub & Grub Challenge featuring MEN WHO COOK – Are YOU up for the Challenge!
The Path of Life Pub & Grub Challenge featuring Men Who Cook promises to be a festive event that will bring together some of Riverside's most distinguished and community-spirited men and their teams to show off their expertise and compete for the title of Best Dish, Best Brew, and Best Booth!
All proceeds will benefit Path of Life Ministries' programs to end homelessness. This year's event promises to be truly outstanding. We expect 20+ Grub teams, 10+ Pub teams, and 500 tasters to enjoy food and beverage tastings, silent and live auctions, music, dancing, and lots of fun!
Don't miss the Corvettes West car show or a chance to win a $3,700 Marriott vacation stay!
Fontana
Free Outdoor Boot camp – Come join me for a FREE Outdoor Boot-camp! All fitness levels welcome!
Every month I offer free workouts around the Inland Empire join one or join them all! Every session is different….the only thing you can be sure of is that you'll have fun, make some new friends and sweat!
NOTES FROM THE INSTRUCTOR:
✔ Please like my page!
✔ Bring lots of water!
✔ Sunscreen
✔ Wear appropriate shoes & attire for the class (you may get dirty :))
**All participants will be required to sign a medical waiver**
DISCLAIMER: Consult a physician before performing this or any exercise program. It is your responsibility to evaluate your own medical and physical condition and to independently determine whether to perform, use or adapt any of the exercises we may be doing. Any exercise program may result in injury. By voluntarily undertaking any exercise shown during any classes, you assume the risk of any resulting injury.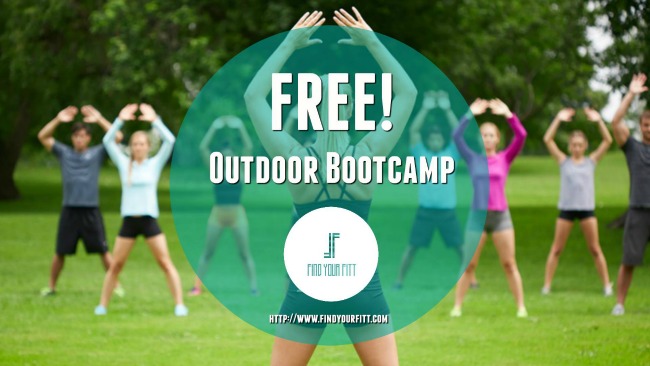 Bimmerfest 2017 – Bimmerfest 2017 California sponsored by ESS Tuning is the biggest BMW car show in the country featuring two days of action for BMW enthusiasts. Activities include:
* Battle of the Bimmers sponsored by Toyo Tires
* Bimmerfest Track Days
* BMW CCA to Host Test and Time, Handling Clinic and Autocross
* BMW Fan Zone with BMW Classic and M Performance Parts
* BMW Heritage Corral sponsored by Pelican Parts
* Featured Car Corral
* Dyno Runs
* Food Truck Festival and Biergarten
* Go Kart Racing
* Parade Lap on Track
* Vendor Alley with 70+ BMW Related Companies
Rancho Cucamonga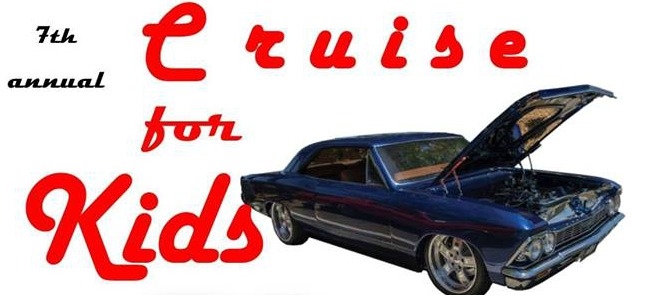 Cruise for Kids Car Show – Annually, the Kiwanis Club of Rancho Cucamonga host a Car Show to raise money for our many services we provide such as Shoes That Fit, Veterans Day Pancake Breakfast and a Christmas Party for needy children in our community.
Visit our website for more details including the registration to enter a vehicle in the Car Show. Registration is $15/Show Day $20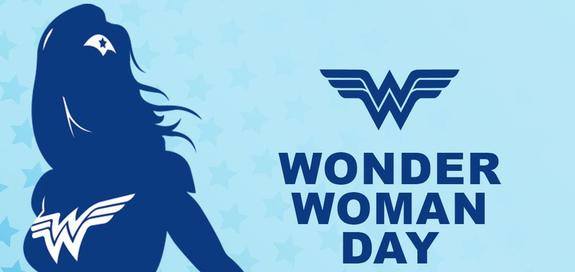 Wonder Woman Day – Come celebrate the 75th Anniversary of the Amazoian Princess with us here at 4 Color Fantasies!

Special Wonder Woman Day comic available with Wonder Woman Tiara and Bracelettes available while supplies last!