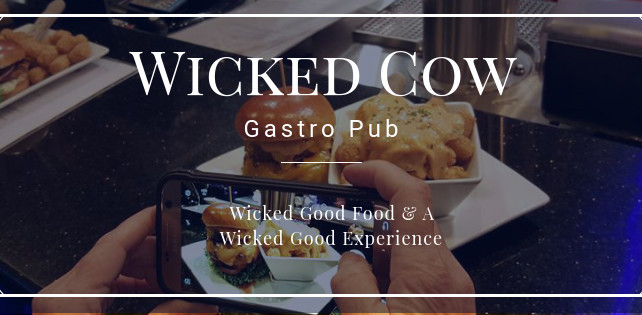 Wicked Cow Gastro Pub promises to never bring you an ordinary dining experience and they are meeting that promise with action once again as they roll out new October Burgers and Fall inspired menu items both sweet and savory.
Murder Burger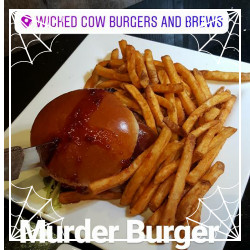 100% Angus Beef Patty, Spring Mix, Swiss Cheese, Garlic Aoli, Buttermilk Shoestring Onions, Peppered Bacon
This Halloween themed burger is straight out of the Breaking News Headlines. Each burger is served with a steak knife stabbing the top bun as a red ketchup jelly blood oozes down the sides. This burger delivers on both looks and taste.
The Wall Burger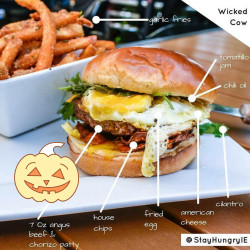 Angus and Chorizo Patty, House Chips, Fried Egg, American Cheese, Cilantro, Chili Oil, Tomatillo Jam
This burger serves up tastes you can't find in just any burger. This south of the boarder treat is packed with awesome flavors not normally found in a bun. This burger also looks amazing which will have any customer snapping a photo before diving in. If your looking for cool photos of awesome food follow the adventures of Stay Hungry IE follow her on Instagram and Facebook.
Wicked Pig
Double Decker Wicked Cow

Lettuce, Tomato, Onion, Pickle, Cheddar Cheese, House Thousand
This massive burger is mind boggling feat as it approaches your table. If this burger created to make a name for this awesome Gastropub wasn't enough they decided to throw another 100% Angus Patty on and double the cheese. Pair this monster burger with wicked tots (see picture) and this is totally something two could share.
What the Cluck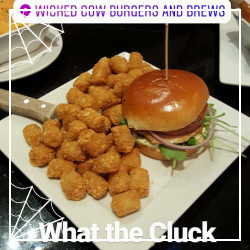 Chicken, Gouda, Grilled Tomato, Red Onion, Garlic Aoli, Balsamic, Basil
Don't like beef and it is hard for you to find an alternative that actually makes you go WOW? Well Wicked Cow has that covered. On top of the Salads and other offerings that are awesome this chicken sandwich offers an awesome alternative. They add so much flavor to this sandwich and then take a different approach to grilled veggies on a sandwich and they grill the tomato.
Kow-Rean Veggie Style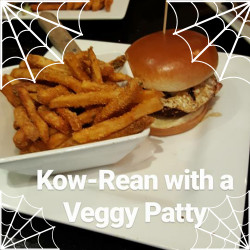 Kimchi Slaw, Seared Pork Belly, Toasted Sesame Roll, Egg, Chili Aoli, Quinoa Veggie Patty
Ask Donna from My Dangerous Cupcake Lifestyle how this burger was and she will tell you. "As a non-beef eater, they made me a Kow-rean Burger using a veggie patty. As veggie patties go, this was fantastic. Not dry at all and with good flavor, it fit perfect with the regular Kow-rean toppings of kimchi, seared pork belly, aoili and an egg." Read more of Donna's experince at wicked cow here.
Ranger Burger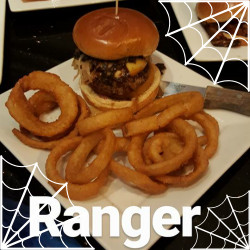 Smoked Gouda, Steak Sauce, Onion Rings, Sauteed Mushrooms, Shoestring Onions
The Ranger burger is a favorite especially if you like Western BBQ burgers from other places you will love this one. The smoked gouda and sauteed mushrooms really set off the flavor party. This burger pairs well with onion rings and one of the many house made sauces that wicked cow makes.
Bloody Eyeball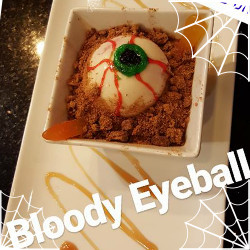 Wicked Cow really wants to set off your meal on a spooky note so they have this option to end your meal. Grab a bloody eyeball and dig in with your favorite person and see what the eyeball yields. Surprisingly this dessert is full of flavor.
Pumpkin Cheesecake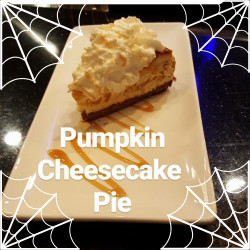 Now what fall menu would be complete without a pumpkin recipe of some sort. This pumpkin cheesecake is so smooth and full of flavor. They don't over do it with the pumpkin flavor everything is just right.
For more info on this awesome restaurant and links to all their social media sites click here.