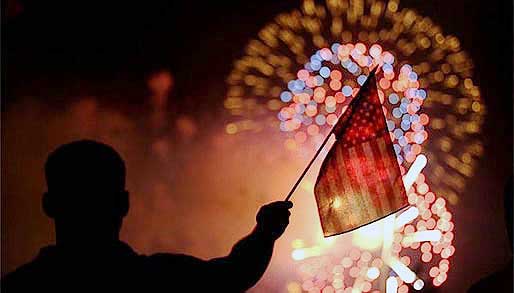 The Fourth of July is here and there is not shortage of fairs or shows. The Inland Empire is making a big push to keep IE residents close to home this July 4th. From San Bernardino County to Riverside County the events are many and the thrills will help you enjoy celebrating Americas Birthday close to home.
Need Help finding something to do as IE Explorer on twitter at www.twitter.com/inlandempireexp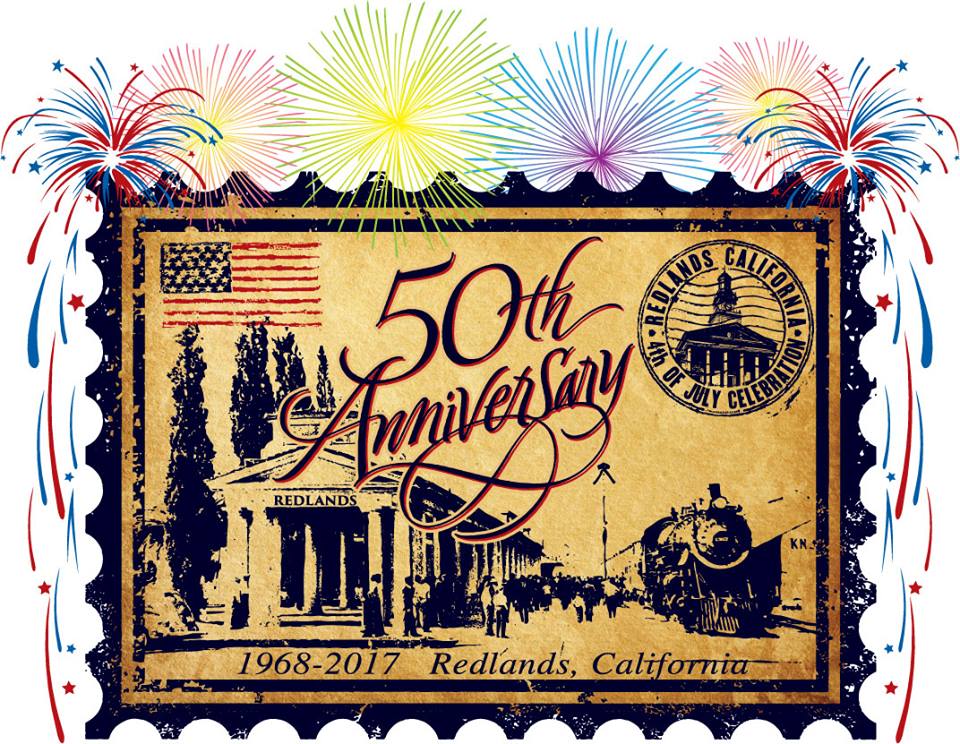 Redlands' Community Fourth of July –
Each year the citizens of Redlands band together to celebrated Independence Day in grand fashion. The 4th of July Committee works tirelessly throughout the year to plan a fun filled day for the entire family. The day begins with a picnic at beautiful Sylvan Park: Food; Games; Music!
Official T-Shirts:  Monday June 5th official T-shirts will be on sale for $15.00 at the Redlands City Clerk's Office.    The shirt will also be sold at the committee booth in Sylvan Park on Tuesday JULY the 4th.  .
Park Activities:   Many local service and civic clubs are expected to participate in the daytime activities in Sylvan Park, Section A on University Street near the University of Redlands.  Set up is expected to get underway at 7 a.m. and booths should be open at 9 a.m.  Live entertainment will begin at 9:30 a.m.  At 10:30 a.m. 4th of July Paradewill march around the park.
Stadium: Once again the University of Redlands plays host to one of the largest 4th of July celebrations in the State of California .  The gates at the U of R Stadium will open by 6 p.m.  The live show and opening ceremonies will begin at 7:00 p.m. and will include a flag ceremony and a flyover with four T-34's.  After the flyover, skydivers  will be landing in the stadium.  The Live show, at 8:00pm, will feature performances by the "Connie Roener Band".   The Fireworks show under the direction of Jeff Martin, citizen of Redlands and Sales  Manager for Pyro Spectaculars by Souza will begin about 9pm.
Beaumont – 4th of July Celebration –
Join the City of Beaumont as we celebrate our Nation's birth in style with a swimming, market night, concerts and fireworks! Bring your lawn chairs, blankets, and of course family and friends!
The Plunge ($1 per person swimming) – 12 p.m. to 8:00 p.m.
The Kraze – 5:00 p.m.
Cannibal & the Headhunters – 7:30 p.m.
Fireworks – Approx. 9:00 p.m.
Big Bear 4th of July Fireworks –
Find your spot on the lake for viewing one of the Best fireworks displays in Southern California. Viewing from a boat is awesome. There are lots of options for paid viewing: Rotary BBQ at Marina Resort, lakeside at The Boathouse or The Pines, Big Bear Queen Boat Tour, or the Miss Liberty Boat Tour.
Free options include: bringing your camp chairs to Pine Knot Ave. in The Village, finding a spot (like Meadow Park) beside the lake, take to the hills on Polique Canyon, or just about anywhere on the North Shore (Meadows Edge Picnic Area is good or the lake shore near the observatory)
Live entertainment, games, food, music and more, Wednesday, June 28,5-9 p.m. Veterans Park, 14877 Eucalyptus Road. 909-364-2700
Chino –
Festivities with games and carnival rides, 3-10 p.m. Saturday, July 1. Music starts at 5 p.m. and fireworks at 9 p.m. Ruben S. Ayala Park, 14225 Central Ave. 909-334-3258, www.cityofchino.org
Pancake breakfast, 7-10 a.m. July 4 for $5, at Memorial Park, 840 N. Indian Hill Blvd., hosted by the Kiwanis Club. Claremont Village Freedom 5,000 5K/1K, with runs starting at 7:30 and 8 a.m. Flag raising, festival and children's activities (water slides, rock-climbing wall, etc.), 10 a.m.-2 p.m. also at Memorial Park.
Parade, starting at 10th Street and Indian Hill Boulevard, begins at 3 p.m.
Concert with The Ravelers starts at 6:30 p.m. at Pomona College's Strehle Field, followed by fireworks. Tickets are $8 in advance and $10 at the gate, 909-399-5490
Corona –
The City of Corona will be continuing its annual tradition of the Main Street Parade, Family Festival, and fireworks show, but because the 4th of July is on a Tuesday the City has moved the festivities to the Saturday prior.
The fun will begin at 9 a.m. on Saturday, July 1, with the Main Street Parade.  Heading north from Main and Ontario towards Olive Street, the parade features community groups and businesses as they show off their patriotic spirit, perform, and more.
The fun continues at 4 p.m. as the City of Corona kicks off the Independence Day Family Festival at Santana Park (598 Santana Way, Corona).  From 4 p.m. to 7 p.m. kids ages 17 and under can enjoy the various games and attractions in the fun zone.  New for 2017, the City is offering fun zone wristbands which can be purchased prior to the event for $20 and will give kids unlimited access to the fun zone attractions.  Wristbands must be purchased by Friday, June 30 and are available at the Recreation Office at City Hall, the Corona Public Library, or the Circle City Center.  Traditional punch cards will still be available for purchase at the event. For more info go to the Life In Corona website.
Personal Fireworks
Fireworks are illegal in Corona and the city is doing its part to ensure that residents abide by the rules. In the City of Corona citations for violations of the City Ordinance banning fireworks will be issued to those possessing "Safe and Sane" fireworks; with a fine of $500. The fine for possession of other types of fireworks (those not certified "Safe & Sane") is $1000.
In the City of Corona citations for violations of the City Ordinance banning fireworks will be issued to those possessing "Safe and Sane" fireworks; with a fine of $500. The fine for possession of other types of fireworks (those not certified "Safe & Sane") is $1000.
Crestline – 
Saturday July 1st
Town Festival all day
Parade
Food Trucks
Beer Garden
100 INSPIRED artisan spaces
Live Music stages
Lake activities
Corks & Hops wine & craft beer walk starts at 3pm
Fireworks at 9pm
Wine & Craft Beer Walk from Lake Drive to TopTown!
Every First Saturday June- Sept (3pm-8pm)
This event is July 1st and occurs during Jamboree Days town celebration which goes all day beginning at 8am ending with a fireworks show at 9pm!
SoCal wineries, craft breweries
Local restaurant tastings
9 pouring/tasting Stops
Live Music Stages
up to 50 INSPIRED artisan booths
Free shuttle every 15 min (4 stops) during the event
We're on Instagram! @corksnhops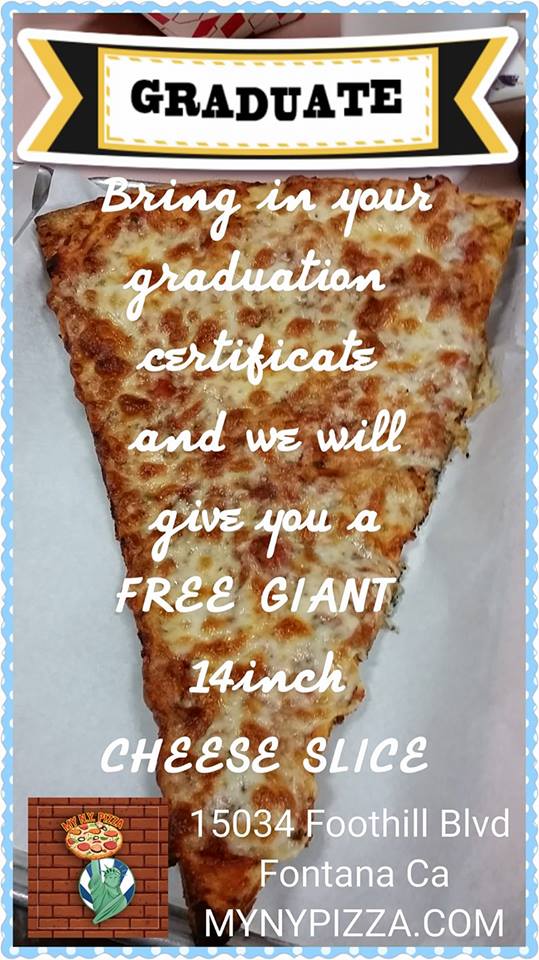 Fontana – Red, White, and Cruise –
The Independence Day Celebration will be hosted at Fontana High School located at 9453 Citrus Ave. from 6-9:30pm. Ticket are $4/person (all ages) and will be on sale starting June 12, 2017 at the following locations:
• Community Services Department: 16860 Valencia Ave.
• Don Day Center: 14501 Live Oak Ave.
• City Hall: 8353 Sierra Ave
• Jessie Turner Center: 15556 Summit Ave.
For more information about the celebration, visit Events.Fontana.org or call Special Events at 909-349-6900. For more info click here
Enjoy the "4th of July" Fireworks Display in Lake Arrowhead!
The Annual Lake Arrowhead Fireworks displayed hosted by the Arrowhead Lake Assoication will be on July 3rd starting at 9pm For more information please call 909-337-2595
La Verne –
"American Proud" with a spectacular pyrotechnic show at Bonita High School Stadium, 3102 D Street. 5:00 p.m. Ticket booths open 6:00 p.m. Gates open 7:00 p.m. Show time 9:30 p.m. Show concludes Adult tickets (13 & up) are $7, children's tickets (ages 5 to 12) are $6, and children 4 and under are free. Pre-sale tickets are discounted by $1 per ticket if bought before July 4th. For ticket locations contact the Community Services Office at (909) 596-8700. Cash sales only! The Answer will provide pre-firework entertainment. Please note that Bonita High School has an artificial turf field. No BBQ's, open flames, other incendiary devices, pets, sunflower or pumpkins seeds, umbrellas, stakes, or any other items which may damage the turf are permitted in the stadium or anywhere on the field.
Lake Elsinore –
Fireworks show at 9:00 p.m.
Show will be paired with a sky concert which will be synchronized with KOLA's Radio Station 99.9 FM. Free public viewing locations include Lakepoint Park, Elm Grove Beach, Whiskers Beach and a portion of the levee. View by Boat passes are available for purchase at La Laguna Resort & Boat Launch.
Menifee –
Come out and celebrate early at the City of Menifee Award Winning Independence Day Celebration!! The Celebration festivities are scheduled for Saturday, July 1, 2017, and will include the usual family games, craft vendors, live entertainment, and an expanded Kid's Zone!
We are excited to announce a Car Giveaway by Paradise Chevrolet and a Car Show by Raised Up Truck Club as two new attractions this year!
The event will conclude with an awesome, free fireworks show!
Moreno Valley –
Time: 9:30 a.m. – 12 noon
Route: North on Frederick St., beginning at Alessandro Blvd., then west on Towngate Blvd.
Family Funfest and Fireworks Spectacular
Time: Funfest: 2 – 9 p.m.; Fireworks 9 p.m.
Location: Morrison Park/Mountain View Middle School (cnr. Dracaea Ave. and Morrison St.)
Ticket Information
Presale: June 1 – July 1 at the Conference & Reference Center; $2 per person or $10 per family (up to 6 people)
July 4: Free entry before 4 p.m.; $3 per person after 4 p.m.
Military (with valid ID) and children under 5: Free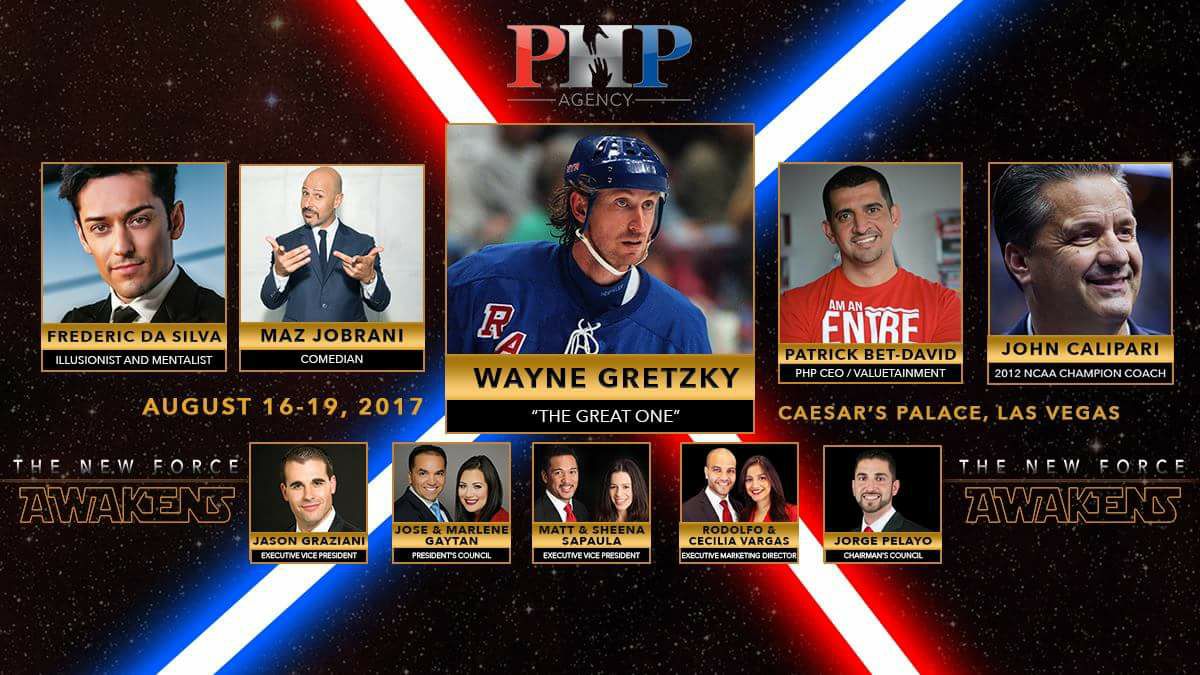 Ontario July 4th Parade –
Fireworks Spectacular starts at 9:00 PM admission is Free Location: Westwind Park 2455 East Riverside Drive Ontario, California 91761 For more information, please call Ontario Recreation & Community Services at (909) 395-2020.
Pomona –
Tuesday, July 4, 2017 It's the 31st annual fireworks spectacular at Fairplex. Monster trucks and Moto X extreme get the crowd cheering and the stupendous fireworks are the grand finale. The nighttime programming has been a crowd pleaser since its inception in 2002. It puts the boom in KABOOM! Monster Truck and Big Air Freestyle Motocross 8 p.m.
The Human Cannonball will soar 150 feet through the air to keep the crowd on its feet! Parking is $10 at Gate 17 on Fairplex Dr. (gates open at 5 p.m.)
Combine your fireworks with a buffet – priced $28 to $58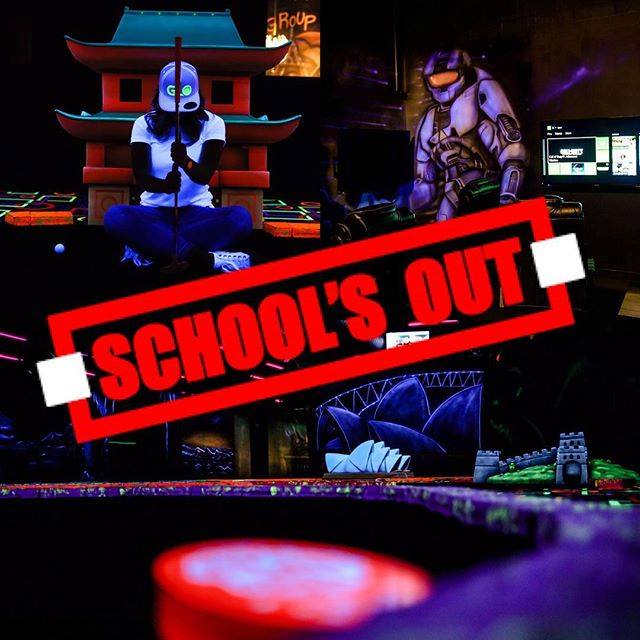 Rancho Cucamonga Fireworks Celebration –
Rancho Cucamonga Epicenter 8408 Rochester Avenue
July 4 Tickets on sale $10.00 single seats $75.00 table of 4.
Purchase Tickets:
• On-Line at Here (additional fee applies for on-line sales)
• By Phone – (909) 477-2752
• In Person at the Lewis Family Playhouse Box Office 12505 Cultural Center Drive
Tickets for this event will NOT be sold at the Epicenter Box Office
Plan ahead and arrive in time to be shuttled. Shuttle service from Metrolink Station will run 5:30 pm to 8:40 pm. Shuttle rides after 8 pm will not guarantee gate entrance by 9 pm. Must have event ticket to ride. Shuttle service will resume at the conclusion of the firework show.
Accessible Parking available at LoanMart Field at the Epicenter
Limited Accessible Parking access off Rochester Ave. and Jack Benny Dr. only.
Must show Disabled Parking Placard or plates and event ticket(s) to park. Rochester Ave. from Sebastian Way to Jack Benny Dr. will be closed. There will be no stadium access via Foothill Blvd.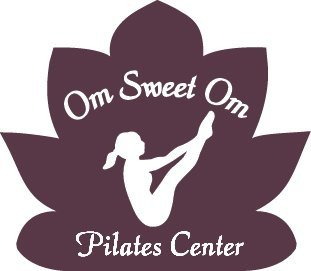 Rialto's 4th of July Celebration in the Park
City of Rialto Annual Hometown Independence Day Celebration Tuesday, July 4th 5:00 to 9:00 pm FREE ADMISSION Jerry Eaves Park 1485 N. Ayala Drive.
Riverside 4th of July Spectacular –
At Evergreen Memorial Historic Cemetery Corner of 14th & Pine Streets, Riverside CA 92501
July 4, 2017 ● 5:00 PM – 9:30 PM
BEST SEATS IN TOWN! Music ● Food ● Fun ● Family Activities
Every year the City of Riverside CA shoots off fireworks from the top of Mt. Rubidoux at 9 PM.
Evergreen Memorial Historic Cemetery is located at the base of Mt. Rubidoux & has the best view of the fireworks on the 4th of July!
Bring lawn chairs, blankets, picnic baskets, or purchase food from our food vendors!
Lots of activities for the kids in a safe, family friendly location Petals the Clown, Kids Zone, Bounce Houses, Balloon Man
Admission:  $ 5.00  per person – Kids 2 and under are  Free!
Please bring a paper ticket to the event, it will be scanned upon arrival.
No ticket is needed for Kids 2 and under.
Admission at the event is $5 per person
$5 Parking at 14th St. & Brockton Ave / Brockton & Tequesquite Avenues
All profits from this annual fundraiser goes toward supporting
and maintaining Evergreen Memorial Historic Cemetery.
We are looking for vendors for our event. If you would like to be a vendor please go to www.http://evergreen-cemetery.info and click on events! Or  email us at:   emhc.cemetery@gmail.com
Feature aerial fireworks at La Sierra Park and Mt. Rubidoux (in sync with KOLA 99.9 broadcast). Access will not be permitted in La Sierra Park(5215 La Sierra Ave.) or on Mt. Rubidoux at Ninth St.) on the 4th of July. Shows will begin promptly at 9 p.m. Cost: Free   www.Riversideca.gov/Park_Rec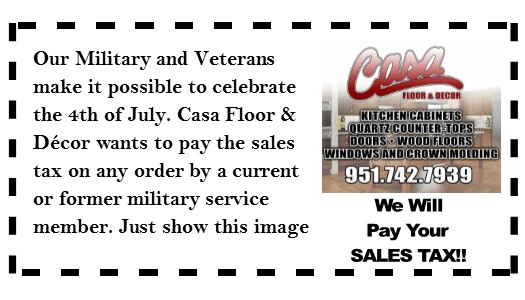 San Bernardino –
Celebrate America's Independence with America's Pastime! 66ers Fireworks Extravaganza on July 4th to be promptly shot off directly after the game and presented by Nissan of San Bernardino! Gates open at 6:00 PM
Temecula –
The 4th of July Parade will be starting at 10am Tuesday morning. The parade will be running arch to arch, South to North. Parking is available at the Old Town Parking Garage (South of the Civic Center on Mercedes St). Old Town Front Street will be closed from 9am until about noon. You will be able to access the parking garage until 9:45am from the north end of town via Mercedes Street.
Come Celebrate Independence Day at Vail Lake Resort!
July 2nd, 2017  –  July 3rd, 2017
Address: 38000 Highway 79 South, Temecula, CA 92589
Times: Call for times
Phone: 951-303-0173
San Jacinto Independence Day Celebration –
2017 Independence Day Hometown Parade and Festival
Please join the City of San Jacinto in celebrating the 2017 Independence Day Hometown Parade and Festival on Tuesday, July 4th. The Parade down San Jacinto Avenue will begin at 9am followed by a fun-filled Festival from 10am-5pm at the Estudillo Mansion. Click on the following links for parade and vendor information. If you would like to be a sponsor, please call (951) 537-6359.
Yucaipa 4th of July Carnival and Fireworks Show –
The City of Yucaipa, along with the Hometown Celebration Committee and the Lions Club, sponsors the annual Fireworks Spectacular! Enjoy an early evening 4th of July picnic at Yucaipa High School (33000 Yucaipa Blvd.) and complete the evening with a spectacular fireworks show! The festivities begin at 3:00 p.m. and continue well into the evening until 10:00 p.m. with fireworks at 9:15 p.m. Click here for the Vietnam Veterans Commemoration Ceremony nomination application!