The National Night Out program culminates annually on the first Tuesday of August. Neighbors participate across thousands of communities from all 50 states, United States territories, Canadian cities, and military bases worldwide. National Night Out is an annual community-building campaign that promotes police-community partnerships and neighborhood camaraderie to make our neighborhoods safer, better places to live.
If there was a time where relationships were ever in need of some TLC between the community and Law Enforcement now is that time. Cities all over the IE have events and its always best to attend the event with your local agency but sometimes that other cities event is so cool that you just can't help but attend because it looks like fun. Well that factor along with the awards that can be won for having an awesome and unique event are driving local agencies to step up their game and bring more awesome events than in years past. Here is a list of the events we were able to find in ABC order:
Corona National Night Out
Tuesday from 4-7 p.m. at four sites:
Cardenas market, 301 S. Lincoln Ave.
New Zone Office, 577 N. McKinley St., Suite 103
Vons, 369 Magnolia Ave.
Ralphs, 2661 Green River Road.
Mounted unit, K-9, equipment displays and fingerprinting.
JOIN US FOR A NIGHT OUT AGAINST CRIME! A great night to get acquainted with the Riverside County Sheriff's Department, your neighbors, and the City's Public Safety Commission.
JOIN US FOR A NIGHT OUT AGAINST CRIME! A great night to get acquainted with the Riverside County Sheriff's Department, your neighbors, and the City's Public Safety Commission.
Event Activities:
– BOMB SQUAD DISPLAY
– K-9 DEMONSTRATION
– SWAT TEAM
– MCGRUFF THE CRIME DOG
– CHILD FINGERPRINTING
– EXPLORER PROGRAM
– EQUIPMENT DISPLAYS
– HAZARDOUS MATERIALS UNIT
– PARAMEDIC SQUAD
– LADDER TRUCK
– FREE PEPPER SPRAY CERTIFICATIONS (18 AND OLDER ONLY)
– CHANCE TO WIN A BIKE FROM TARGET IN THE BASKETBALL SHOOT-OUT
– FACEPAINTING & BALLOON ANIMALS
– PHOTOBOOTH AND STREET RIDERS
– ROCK WALL, BOUNCERS, ENTERTAINMENT, AND FUN!
WHEN: Tues., August 12, 2014 from 6-8 p.m.
WHERE: 12471 Limonite Ave., Eastvale, CA 91752 – Target Parking Lot, Eastvale Gateway Shopping Center
Please call (951) 703-4415 for questions about the event.
Hemet National Night Out
Tuesday from 5-8 p.m. at Target parking lot, Florida and Sanderson avenues. Coloring and fingerprint kits for children. Police equipment display.
Fontana Police Department National Night Out
Come out to the Martian Tudor Regional Park is South Fontana for FREE Hot Dogs, Reasources and Vendors, McGruff Crime Dog Appearance and Police Demonstrations the address is 11660 Sierra Ave Fontana Ca 92337. For more info call Olga Hernandez at (909) 350-7758
Lake Elsinore National Night Out
The Lake Elsinore Police Department, in conjunction with the City of Lake Elsinore, is pleased to announce the 33rd annual National Night Out event on Tuesday, August 2nd.  This year's event will be held at Lakepoint Park, located at 420 E. Lakeshore Drive, in the City of Lake Elsinore from 5:00 PM to 9:00 PM.  National Night Out is a public safety expo where members of the public can meet officers from the Police Department and other public safety agencies first hand.  The goal of National Night Out is to build community partnerships between the public and public safety in a festival atmosphere.
The Police Department will showcase its' diversity with displays from the Mounted Posse, Lake Patrol, Off-road Enforcement, SERT (Sheriff's Emergency Response Team), Lake Elsinore Marine Search and Rescue, Riverside County Underwater and Recovery Team, Motors and the Explorer program.  K-9 will do a live demonstration.  You can take part in the Fatal Vision demonstration simulating the hazards of driving under the influence.  Other public agencies in attendance will include City of Lake Elsinore Code Enforcement, Parks & Recreation and Lake Elsinore Unified School District and Cal Fire.
Included in the festivities will be a D.J. and a raffle for prizes donated by local merchants in support of National Night Out.  There will be activities for the children such as face painting, word searches and bouncers.  Come out and get to know your neighbors; the Police and Fire Departments, as we celebrate 33 years of Nation Night Out.
Anyone with questions or comments can contact Officer Baca of the Lake Elsinore Police Department at (951) 245-3385.
Loma Linda National Night Out
Tuesday from 4:30-7:30 p.m., Loma Linda University School of Dentistry, University Court between Anderson Street and Campus Street.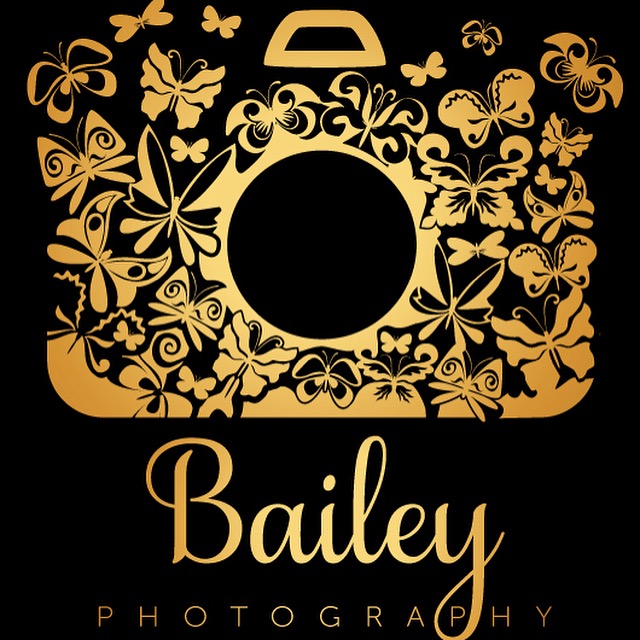 Moreno Valley National Night Out
Moreno Valley— Residents throughout the City of Moreno Valley are invited to join in with the thousands of communities nationwide for the 33rd Annual National Night Out (NNO) on Tuesday, August 2nd, 2016.  The event runs from 5:00 p.m. to 9:00 pm.
The following event locations are open to the public:
El Sorrento Senior Gated Community, 23820 Ironwood Avenue – 5pm – 6pm
Neighborhood site, 24707 Conley Court – 6pm – 7pm
Neighborhood site, 23334 Gerbera Street – 7pm – 8 pm
National Night Out is designed to generate support for the anti-crime programs such as Neighborhood Watch and heighten gang and drug prevention awareness.  It also serves to strengthen neighborhood spirit and police-community partnerships, and send a message to criminals letting them know that neighborhoods are organized and won't tolerate their presence.  "Crime prevention is a community effort and getting to know you neighbors is a great place to start" said Moreno Valley Police Chief Joel Ontiveros.
The event, sponsored locally by the Moreno Valley Police Department and nationwide by the National Association of Town Watch, will involve more than 16,000 communities from all 50 states.  The Moreno Valley Police Department is dedicated to protecting the safety and well-being of our citizens in the City of Moreno Valley.  The Moreno Valley Police Department is committed to helping our City enhance the quality of life for its residents.
For more information, please contact Officer Matthew Reilly of the Moreno Valley Police Department at (951) 486-6715.
ONTARIO'S 2016 NATIONAL NIGHT OUT
ONTARIO'S 2016 NATIONAL NIGHT OUT BLOCK PARTY REGISTRATIONS
Ontario's Mayor and City Council are proud to announce this year's National Night Out event scheduled for Tuesday, August 2, 2016. This year's event will celebrate the City's ongoing commitment to maintaining a high level of public safety and quality of life. National Night Out is designed to heighten crime and drug prevention awareness, enhance participation in local anticrime efforts, and strengthen our community's partnerships with law enforcement.
The Ontario National Night Out event invites residents, local businesses and visitors to gather with first responders and public service providers to promote crime prevention awareness, public safety, and neighborhood unity. This year marks the 30th anniversary of Ontario's participation in the National Night Out program. Last year, Ontario residents from more than 200 neighborhoods participated in the event, which helped the City earn 5th place in the nation for cities in similar size. This year's event promises to be another award winning celebration with block parties throughout the City representing Ontario's diverse community.
Those interested in hosting a neighborhood block party are asked to register their event with the Police Department Crime Prevention Unit by Friday, July 1, 2016. Neighborhood event hosts will be eligible to have special guests attend their block parties and to receive National Night Out promotional materials. Visit www.ontarionightout.org to view additional National Night Out ideas and guidelines.
For additional information, please contact the Ontario Police Department's Crime Prevention Unit at (909) 395-2939 or crimeprevention@ontariopolice.org.
Perris and Menifee Joint National Night Out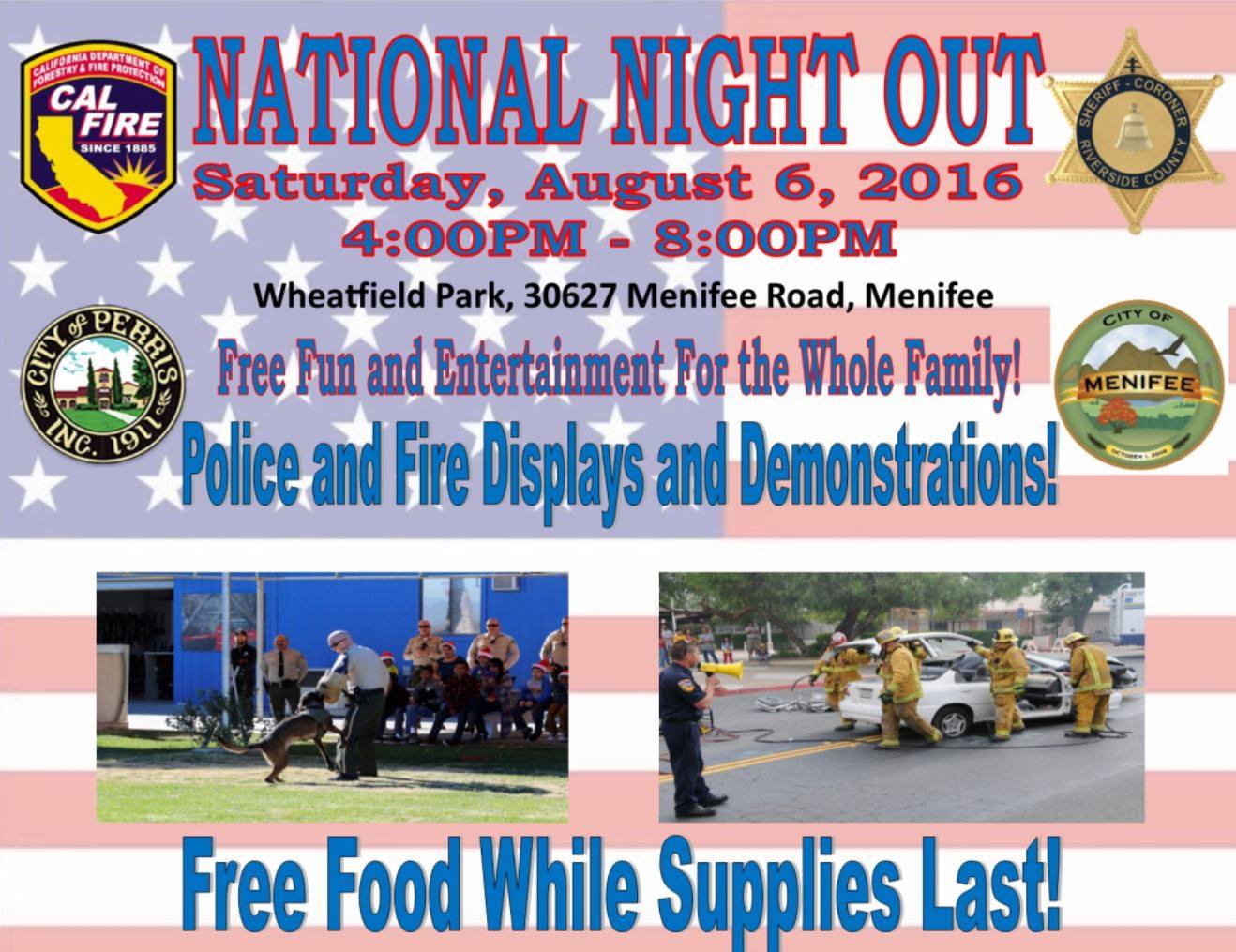 Rancho Cucamonga Police Department
PRESENTS:
National Night Out
Join your neighbors and the Rancho Cucamonga Police Department on National Night Out on Tuesday August 2, 2016 from 5:30 pm to 8:30 pm. Enjoy the festivities at Victoria Gardens on North Mainstreet in the parking lot across The Cheesecake Factory.
Residents throughout Rancho Cucamonga and across the nation are asked to lock their doors and turn on outside lights and spend the evening outdoors with neighbors and the police.
Participants include:
K-FROG
Rancho Cucamonga Fire District
Healthy RC
Paper Shredder
There will be music, giveaways, raffles, vendors bloodmobile and more!
Rialto Police Department and the Rialto Parks and Recreation Department bring you yet another great event for National Night Out 2016.
Rialto PD has one goal to bring the best event to the community and surrounding communities just a few of the activities you can partake in include:
For more info visit the Facebook Page or call 909-421-4995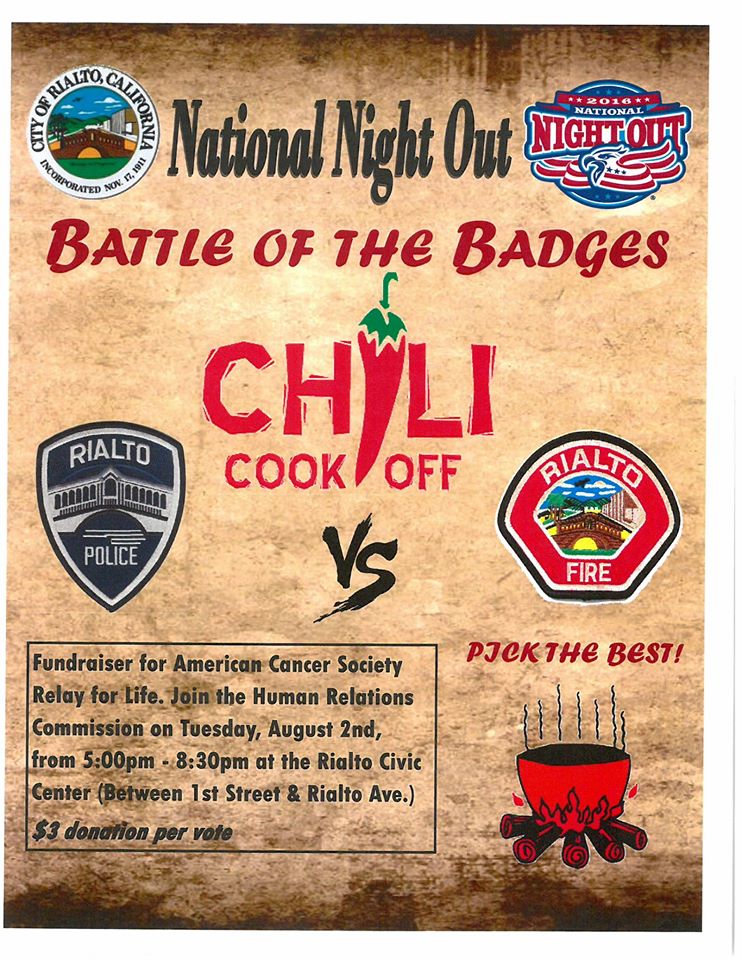 Riverside National Night Out
How Can Your Neighborhood Participate?
Many neighborhood community organizers are preparing block parties within the city of Riverside. Still looking for an event in your area? No problem, we have a list of free public events available going on in the city. Please CLICK HERE to see our public event list.
How Will Your Neighborhood Benefit?
Your event will help strengthen neighborhood spirit, police-community partnerships, and will send a message to criminals that you have taken control of your neighborhood and they are being watched.
If your neighborhood group or business organization would like to be involved, please register your event.  For additional information contact the Police Service Representative for your area.
East:       PSR Halley at lhalley@riversideca.gov or 826-5297
North:      PSR Fierro at bfierro@riversideca.gov or 826-8721
Central:  PSR Ochoa at iochoa@riversideca.gov or 353-7962
West:     PSR Alexander at aalexander@riversideca.gov or 353-7969
If you would like to have the Riverside Fire Department at your event, you must complete a separate registration. FIRE DEPARTMENT REGISTRATION
National Night Out California Avenue Christian Fellowship
A chance to meet up with friends and make new friends. Free food & all activities are free; waterslide, obstacle course, games and more! Come and enjoy some fun. California Avenue Christian Fellowship, 8223 California Avenue (corner of California Avenue & Adams) Riverside, CA from 5:30-7:30pm