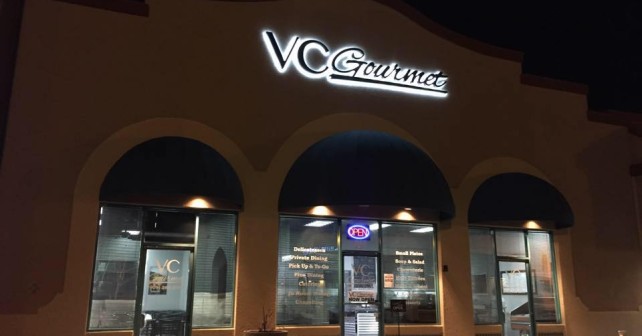 East Highland is home to a local HOA that doesn't look like an HOA. Most Home Owner Associations have walls and gates surrounding them and people who don't live there rarely ever traverse through the community without getting access or permission. Well East Highlands Ranch has open streets and is spread out among other streets with houses that are not part of the association. Tucked into the Western edge of this community is our friends over at VC Gourmet. Chef Valarie and her staff have worked for the last year to show off what they have to offer to their beloved neighbors.
Well one active member took to social media and decided to create an appointment for his neighbors to try out the local gem. Brian Drake created a post encouraging his neighbors and people involved in the East Highland Ranch Neighborhood Watch group to all head down and patronize this awesome local business. Brian also created a poll to see who was serious about coming. The restaurant was busy all day long and people that could not join the group dinner came in earlier and purchased bottles of Sangria for the group to enjoy.
"AMAZING food and awesome friends! Thank you VC Gourmet for making it a great night! If you haven't tried their food, you are really missing out!" Amanda Beauchamp-Drake.
There are two things that make it hard to own a small business. First is competing with big corporate businesses with massive marketing budgets. Second is trying to add needed value to your local community that is struggling to offer diverse choices. These residents let Chef Valarie know that she isn't alone and her community has her back!
Don't miss out on VC Gourmet next Fine Dining Night where Chef Valarie puts together an elegant gourmet meal for 40 people. See what is on the menu for January below:
HORS D'OEUVRES
Fois Gras – Pan seared, served on crostini with pan reduction sauce
Maine Lobster Tempura – Fried, served with House "Secret" Sauce
Tomato and Mozzarella – Topped with Apple Balsalmea
FIRST COURSE
Artisan assortment of fine Salumi and Cheese
SECOND COURSE
Lobster Bisque – House-made with morsels of Maine Lobster
THIRD COURSE
Pear and Gorgonzola salad
FOURTH COURSE
Porcini Risotto – Imported Porcini Trifolata, D.O.P. Parmigiano Reggiano
FIFTH COURSE
Duck Breast – Pan seared with Port wine reduction sauce
DESSERT
Turtle cheesecake
The five course menu is $95.00 per person. This includes a wine pairing with each course. Additional wine or beer charged separately. You are welcome to bring your own wine, cork fee $8.00 per bottle. Please arrive at 6:30pm, meal begins at 7:00pm. If you're interested, please contact our Chef ASAP, this WILL fill up fast! Printed menus are also be available in our shop. We will be limiting the seating to about 30-40 guests.
Prepaid reservations can be made by contacting Chef Valarie:
909-913-2128 or valarie@vcgourmet.com